Editor's Note: Capital A Bhd group CEO Tan Sri Tony Fernandes reminded air travellers recently that higher airfares are here to stay as airlines take advantage of the post-COVID-19 pandemic travel boom to lock in higher charges.
"It's not high prices, it's real prices," he told Bloomberg Television interview, adding that the current fare pricing structure had already started even before the COVID-19 pandemic back in 2019.
But higher airfare must come with better service, not frequent delayed flights or dismal service as what the below experience related to the airasia Super App shows.
By the way, the platform's chief commercial officer Tan Mai Yin has updated FocusM that it has provided immediate assistance to the guest reported by resolving the case immediately on Feb 27 itself.
"We will continue to work closely with our OTA (online travel agent) partners to ensure a better customer experience in the future," she added.
A KOTA KINABALU-bound air passenger had lambasted the airasia Super App for giving him a round-around with no telephone number to contact in the event of emergency.
Self-employed Wan Mahassan Wan Zain claimed that after "struggling up and down from 6am", he finally managed to buy air tickets for himself, his wife, in-laws and nephew on board a Batik Air flight on Feb 27 in view of the desired time.
Having completed the payment process, the flight information was sent to him. However, upon arrival at the Kuala Lumpur International Airport (KLIA), he was informed that the nephew was unable to check in because the airasia Super App had yet to make a reservation with Batik Air.
"We then rushed to klia2 (headquarters of AirAsia's operations) to get confirmation. When we got to the counter, there was no staff. Turned around looking for a counter and finally found a manned counter. The staff told us to go to the customer service counter," shared Wan Mahassan in a recent Facebook post.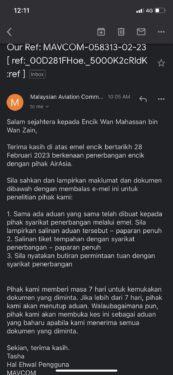 "The staff explained that nowadays AirAsia has many types of business from e-hailing to delivery, flight tickets, food and others. The flight ticket manager is from another company. And so does the staff who is stationed at the counter."
He added: "We then lodged our complaint via e-mail. It took hours before getting a response. There is no phone number to call."
If according to his itinerary, the departure time was 8am. But since his nephew is under-aged and could not fly alone, he had to cancel his own flight to accompany the nephew.
That being the case, Wan Mahaassan's and his family members rushed back to KLIA from klia2 so that his wife and in-laws first could depart first.
In the meantime, he and the nephew returned to klia2 "only to be left stranded with no answer" on the status of his nephew's ticket.
"The heart starts to boil. Make a complaint to the Domestic Trade and Cost of Living Ministry but they say it (the issue) is not under the jurisdiction of the ministry," lamented Wan Mahassan.
"I tried to contact the Malaysian Aviation Commission (MAVCOM) but was informed by the operator that there would only be an officer on duty after 2.30pm (that day) because there was a meeting in the morning."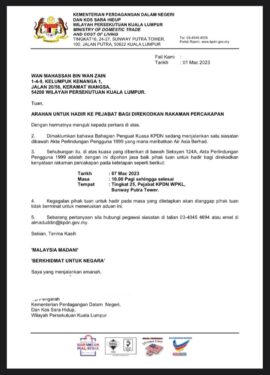 This was when Wan Mahassan decided to buy another ticket. But he was told by the ticket counter that all flights to his destination were fully booked form that day.
"The soonest we could get a flight would be the following day. … We then went to KLIA to buy another flight ticket. Our available option was to fly MAS (Malaysia Airlines). That also has to transit in Labuan. Think for a while. Cost RM3,500 for two people," penned Wan Mahassan on his social media post.
Soon after 12 noon, he received an e-mail and a phone call from AirAsia that there would be tickets available for them at 3pm. This prompted him and his nephew to move again from KLIA to klia2.
"From morning to evening, everything was at your own expenses. Imagine if I were to be an old man. No service whatsoever from the airasia Super App. I managed A-Z by myself, including transportation from KLIA to klia2 (two round trips)," lamented Wan Mahassan.
"Is this what is meant by 'now everyone can fly'? Hope the Madani government will take note of this issue seriously. The Transport Ministry needs to take action. Make sure companies like AirAsia have a phone number to contact.
"Imagine if someone has to attend an important meeting or a court hearing. Are government agencies formed to offer job opportunities or just to spend taxpayers' money!?" – March 6, 2023