FORMER Aliran Kesedaran Negara (ALIRAN) president P. Ramakrishnan has proposed that an independent commission of inquiry be set up to find out whether there is a Tan Sri who is a communist, anti-Malay, anti-Islam and promoting Islamophobia.
I agree with Ramakrishnan and am prepared to give full co-operation with such a commission of inquiry.
Ramakrishnan wrote: "When Lim Kit Siang was a mere politician from the DAP, all sorts of unproven allegations were hurled at him. But they made no impact on him as a politician or as a person.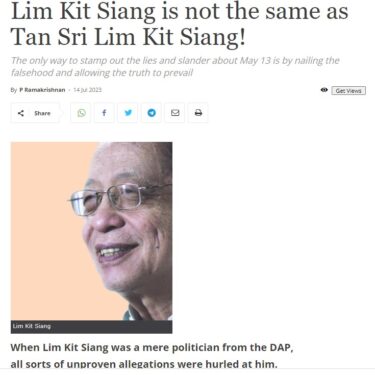 "These wild allegations were like so much water off a duck's back. They never stuck or brought him down.
"In politics, one can be reckless and careless and sometimes get away with it. Now it is different. Kit Siang is no longer in the rough and tumble of politics.
"Now that he is a Tan Sri, the same malicious allegations cannot be thrown at him, especially when he has effectively retired from politics. It is not proper, perhaps even mala fide. Tan Sri is the second highest federal award conferred on a Malaysian.
"Not everybody will be considered for this honorific title. The recipient must be a person of high standing."
Ramakrishnan went on to say that the Tan Sri title cannot be denigrated and that it should be revoked if the allegations are confirmed but if the allegations are false, "the full brunt of the law should land on the culprit making the allegations."
"If I may, it is most unbecoming of a former minister to indulge in breeding mosquitoes rather than draining the swamp in making such allegations to cause fear and anger against an entire community in our beloved country," added Ramakrishnan. – July 15, 2023
Veteran lawmaker and retired DAP supremo Lim Kit Siang was Malaysia's longest serving opposition leader (29 years on three separate occasions).
The views expressed are solely of the author and do not necessarily reflect those of Focus Malaysia.