EVEN after Youth and Sports Minister Hannah Yeoh urged the police to act on buyers of child-like sex dolls which are sold online on July 2, these items have continued to be sold on e-commerce platforms such as Shopee and Lazada.
Likewise, when both The Star and FocusM highlighted the case of a dog named Changgang being shot with a BB gun in Banting last week – even with two police reports being lodged – the air-powered guns are still sold at between RM30 and RM300 a piece online.
What is alarming is that the imitation gun looks real and can be used for robbery and other mischiefs – and if it falls into the hands of children – it can potentially lead to serious injury or worse, a shooting incident similar to those happening in the US.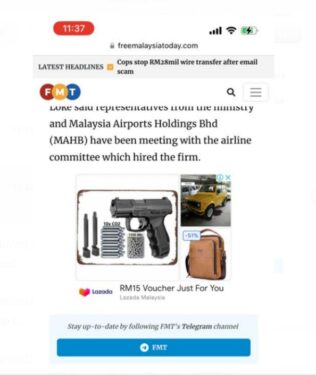 Changgang which was shot with over 20 pellets by unknown person(s) had remained immobile for two days after it fell into a ravine before it was rescued by a volunteer with KC Valley Animal Care Shelter, Sani Ng Abdullah, and sent to a private veterinary in Subang Jaya.
Sani has since discovered that Changgang is now missing from the veterinary on Sunday (July 5) evening where it was supposed to be treated. An offer of RM1,000 to reward anyone who finds Changgang to return the dog has been put out by Sani and a friend known only as Chia.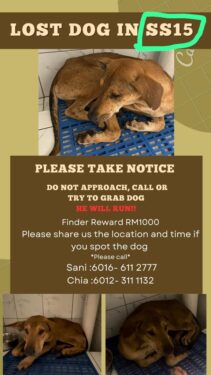 Sani said he lodged a second police report urging the police to investigate if there was an act of sabotage. "Changgang can be a court exhibit when the culprits are arrested and charged in court," he told FocusM.
The police have classified the case under Section 29 of the Animal Welfare Act for cruelty against animals and and/or Section 36 of the Arms Act 1960 for the possession or importation of imitation firearms.
Sale or purchase of the imitation firearms attracts a jail sentence of not more than one year jail or a fine of RM5,000 or both.
Besides being saddened with the disappearance of Changgang, what makes Sani feel disgusted is that these online e-commerce platforms are still selling the weapons with no actions whatsoever taken to remove their advertisements.
He wants the Malaysian Communications and Multimedia Commission (MCMC) and the police to act fast to remove these imitation firearms.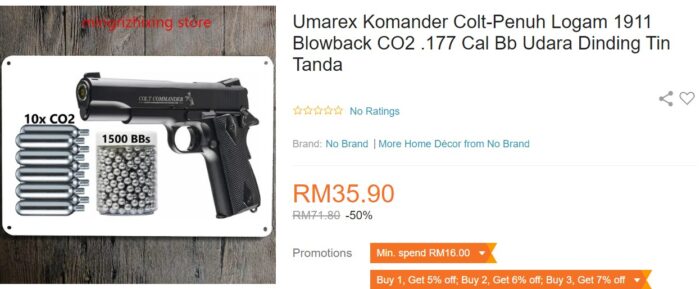 Besides the sex dolls and imitation guns, other items such as tools used for bondage sex are also easily available on these online shops, hence making it easy for young people to purchase them.
FocusM has since tried to alert the Communications and Digital Minister Fahmi Fadzil but has yet to receive a response from him.
In fact, even before the debut of online e-commerce sites, phone numbers have been spray painted on walls to show loans and special 'massage services' (a pretext for sexual services) being offered.
The lack of action by the authorities to act on owners of the phone numbers has left the illegal loan sharks and operator of vices to continue their activities unhindered in the country.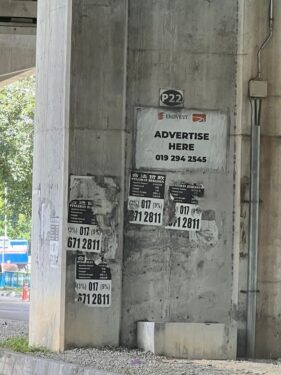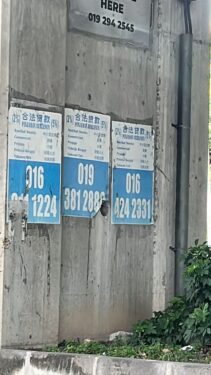 Even though the country has very strict rules for registration for a new mobile phone number, the enforcement is still found wanting while the "mules" used to register these numbers are getting away from the long arm of the law.
It is time for the different enforcement agencies especially the Malaysian Communications and Multimedia Commission (MCMC), the police and the local councils to start monitoring the sale of imitation guns, sex and bondage toys, sex services and offering of illicit loans.
The authorities cannot continue to drag their feet to fight against these modern-day social ills. – July 12, 2023