THE Ipoh-Kuala Lumpur (KL) high-speed rail which will only take 40 minutes of traveling between both cities is awaiting federal government finalisation.
This may well be the first high speed rail project in the country, preceding the proposed KL-Singapore high speed rail which was first proposed by then Malaysian Prime Minister Datuk Seri Najib Razak in September 2010.
Perak infrastructure, energy, water and public transportation committee chairman Datuk Seri Mohammad Nizar Jamaluddin told Sin Chew Daily that the state government had received a proposal from a conglomerate in China over the project.
The high-speed rail with a top speed of 280 km/hour is slower than the Jakarta-Bandung high-speed rail (main pic) at 350 km/hour but will cut traveling time between Ipoh and KL to only 40 minutes in contrast to driving which may take anything from two-and-a-half to three hours.
Nevertheless, the proposal which is a private financial initiative will need to secure the approval from the Transport Ministry as well as consent from the Selangor government before a feasibility study can be conducted given the high-speed rail will travel through Selangor to KL. The Perak state government is supporting the proposal.
Nizar whose stint as the first Perak menteri besar outside Barisan Nasional (BN) was short-lived (March 17, 2008 to January 2009) following defections from Pakatan Rakyat coalition to BN is hopeful that the project can start within the tenure of the unity government with completion slated for 2028.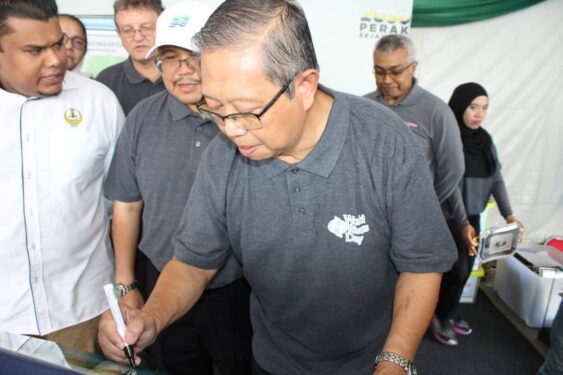 "It will likely be the first high-speed rail for Malaysia," Sin Chew Daily quoted the two-term Amanah state assemblyman for Sungai Rapat as saying.
Currently the KTM electric train service (ETS) which travels at 140 km/hour takes two hours and 38 minutes from Ipoh to KL with a single-journey ticket costing between RM36 and RM42.
Rail service has since become the major mode of public transport in Perak with the Ipoh train station having emerged as the second busiest in the country after KL Sentral. Ipoh station received more than 910,000 passengers last year. More than 2.14 million passengers travelled by rail to Perak last year.
ETS tickets to Ipoh are sold out every weekend with tickets for additional train services being snapped up fast, according to Transport Minister Anthony Loke Siew Fook.
The first high speed rail in Southeast Asia – the Jakarta-Bandung high-speed rail which started operation on Oct 2 has shortened the three-hour journey between both destinations to a mere 46 minutes.
According to reports, the Jakarta-Bandung high-speed rail started work in 2016 at a cost of RM35 bil. The high-speed rail will require a new rail track. – Nov 7, 2023