THERE'S a taunt in Malaysian politics, "Takkanlah kahwin hari ini, esok dah boleh beranak" (It's not as if one gets married today, you can already give birth tomorrow) that has become an insinuation of failure to deliver.
Well, it's been nine months since Datuk Seri Anwar Ibrahim became the 10th Prime Minister of Malaysia (PMX) which is the normal gestation period for humans. Has PMX delivered on his promises in the run-up to office?
It took him 25 years to graduate from a PM-in-waiting to be where he is today. That's after being sacked as deputy PM (DPM) in 1998, launching the Reformasi movement – a very public arrest – followed by a black eye meted by the then police chief.
A quarter century of going in and out of prison and endless court cases for a myriad of excruciating charges that put his family, the nation and the world at large in a collective anguish until he was conferred a royal pardon in 2018.
Throughout the 25 years before becoming PMX, Anwar had been interviewed by major international media, did the global lecture circuit, featured in documentaries and even had a biopic movie made on his life.
Coping with power
But is Anwar living his dream as PMX? Is he everything that his ardent supporters had dreamed of since his Reformasi days? How does one of the world's most famous "victim of selective political persecution" cope with power?
Initially, he seemed to have a hard time transitioning from opposition leader to that of head of government.
A few fumbles such as appointing his daughter, Nurul Izzah, as senior economic and financial advisor and claiming it was not nepotism as she wasn't being paid has been forgotten after she voluntarily resigned.
Other missteps may be less easily forgotten such as his concern over losing elections while using a harsh tone in response to a question from a young student on meritocracy in university admission quota system.
Perhaps PMX sometimes forgets that he is not in campaign mode. During the run-up to the six state elections in August, Anwar was seen and heard in all parts of the country while travelling via government helicopter.
Since then, PMX seems to have toned down the rhetoric and was less visible in the Johor by-elections in the Simpang Jeram (state) and Pulai (parliamentary) held over the weekend (Sept 9), both of which are retained by Pakatan Harapan (PH).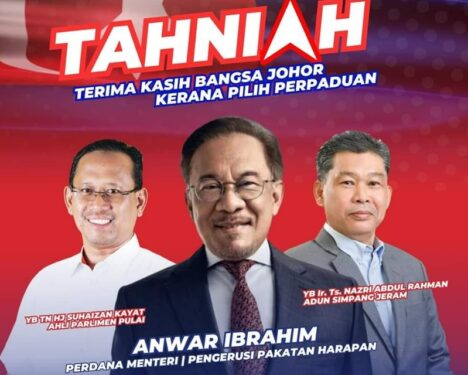 Aftermath of Zahid's DNAA
PH voters seemed unaffected by the decision of former attorney-general (AG) Tan Sri Idrus Harun to seek a conditional discharge for DPM Datuk Seri Ahmad Zahid Hamidi on his Yayasan Akalbudi case.
But DAP secretary-general Anthony Loke Siew Fook has said an explanation from the AG himself would be good "… to restore confidence and convince the public of the country's judiciary system".
As it is, there is no way of who is telling the truth or that it is merely the PMX's word against former attorney-general (AG) Tan Sri Idrus Harun that it was the latter who insisted on seeking a conditional discharge for Zahid before his final day in office.
Amid calls by PKR Youth for a special parliamentary session to discuss Zahid's DNAA, PMX said that "Parliament is not the appropriate platform for deliberating upon court decisions and ongoing legal cases".
But that should be for the Speaker of the Dewan Rakyat to decide – not the PM – according to former Law Minister and Perikatan Nasional (PN) chief whip Datuk Seri Takiyuddin Hassan.
Even Syed Saddiq Syed Abdul Rahman, MUDA's president and Muar MP, has announced he will pull the party out of the ruling coalition in protest against Zahid's DNAA – a major upset as the move will deny Anwar a parliamentary majority.
The PN Youth wing has further called for a mass show of protest dubbed the Himpunan Gerakan Selamatkan Malaysia (Movement to Save Malaysia) which is reminiscent of Anwar's own Reformasi protest movement.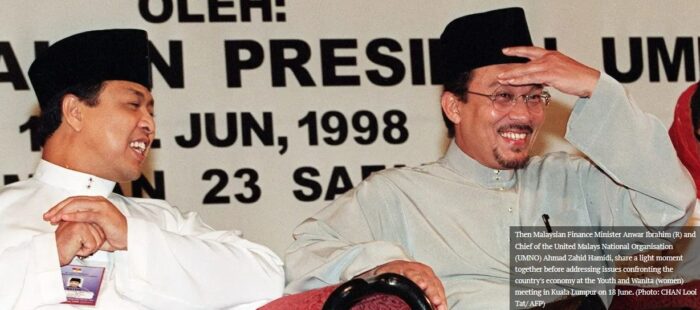 Voices of disappointment
After 25 years of making campaign promises, could Anwar be feeling isolated and overwhelmed by the demands of being PMX? Did Anwar bite off more than he can chew with the unity government?
Despite the clamour of disapproval with the controversial appointment of Ahmad Zahid as DPM, it was obvious that Anwar needed an ally in his camp (recall that Zahid and Anwar were comrades in UMNO Youth).
As Anwar – with his trusty sidekick Zahid – tries to woo the Malay support that he sorely lacks, will he disappoint supporters from other ethnic groups?
Nevertheless, there have been more voices of disappointment with Anwar's performance as PMX.
Malay language news portal BenarNews reported that Malaysian civil society groups and human rights activists are calling out PMX for breaking campaign promises to review or revoke colonial-era laws in the likes of Sedition Act 1948, the Printing Presses and Publications Act 1994, and the Communications and Multimedia Act 1998.
Former Malaysian ambassador to South America and Canada Dennis Ignatius has said it many times in social media; "Day by day [Anwar] disappoints and dismays". – Sept 11, 2023
Niza Shimi was a former journo with a leading mainstream English media.
The views expressed are solely of the author and do not necessarily reflect those of Focus Malaysia.