TAN SRI Michelle Yeoh's Best Actress Oscar nomination in Everything, Everywhere All At Once recently made history. But do you know that long before Yeoh, there were many other Asian women who tried to make a breakthrough in Hollywood?
Anna May Wong was the first Asian-American to act in Hollywood movies in the 1920s and 1930s. But she was always typecast as typical Asian, playing only second fiddle and not a leading role.
In fact, Hollywood chose a white American, Louis Rainer instead of May Wong to act as a Chinese in The Good Earth, a movie about a poverty-stricken Chinese family! Eventually, May Wong left Hollywood.
Fast forward, Hollywood movies began to see some Asian representations in the 1960s. Remember Nancy Kwan in The World of Suzie Wong and Flower Drum Song? But Hollywood was still not all-embracing.
In an interview with NBC, Nancy Kwan said she had trouble sustaining her career in Hollywood as there was lacking of opportunities for oriental women.
Then came Lucy Liu. We all saw her kicking bad ass in the remake of Charlie's Angels. Although she has made a household name, Hollywood was still not ready to be totally inclusive.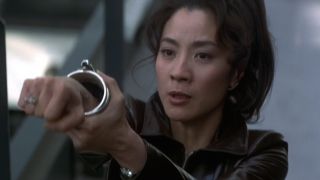 At the same time, we saw Michelle Yeoh coming to Hollywood in the 1980s in search of her American Dream. Unlike many actresses, Yeoh stays true to herself, declining nude roles and typical typecast of Asians.
She changed stereotype of Bond Girl in Tomorrow Never Dies. She shocked Hollywood with her swirling sword fights and high flying kicks in Crouching Tiger, Hidden Dragon. And she made Hollywood took notice of her more in Memoirs of a Geisha and Crazy Rich Asians.
Now after 40 years of show business, Yeoh's success is unstoppable. With Everything Everywhere All At Once, our dear Yeoh became the talk of everything, everywhere, winning streak of awards including Time's 2022 Icon of the Year, National Board of Review's Best Actress Award, Golden Globe Awards' Best Actress (Comedy & Musical category) and the 43rd London Critics' Circle Awards' Dilys Powell Award.
But above all, she became the first Asian to be a Best Actress nominee in the upcoming Academy Awards for her role as a struggling Asian immigrant and mother in Everything, Everywhere All At Once. No Asians have ever won a Best Actress Oscar since it was founded 95 years ago.
Although the Academy Awards have become quite inclusive recently by giving out Best Supporting Actress Oscar to a Korean actress (Youn Yuh-Jung) and Best Picture Oscar to a Korean movie Parasite, we are still left wondering here if Yeoh will finally made history as the first Malaysian to win this prestigious Oscar?
Whatever it is, Yeoh is already a winner in my heart by being an Oscar nominee. But it will be even sweeter if she wins it! All the best, Yeoh! – Feb 12, 2023
Francis Yip is a fashionista and an award-winning writer and HRDF (Human Resource Development Fund)-accredited trainer. He is also the CEO of Franciswriter Dot Com and guest lecturer in The One Academy. 
The views expressed are solely of the author and do not necessarily reflect those of Focus Malaysia.