THE government has to quickly answer claims that it spends a staggering RM2 bil annually to fund the pension of former MPs, ministers, deputy ministers (including parliamentary secretaries in the past) to the prime ministers.
Legal practitioner Khairul Anwar Rahmat who sparked the billion-ringgit question further raised the likelihood of big monthly pension bagged by the former wakil rakyat if they had dual roles of being state assemblymen, executive councillors and even Menteri Besar.
Attributing the source of his information to an insider dubbed "blue bird", the Malaysian Volunteer Lawyers Association (SukaGuam) chairman expressed surprised at the big income that politicians can earn even when they no longer render any service to the people.
"I just did a quick check whereby RM2 bil can build two state-of-the-art hospitals (RM1 bil each) or 10 schools if it is assumed that the cost of each school is RM200 mil," the International Islamic University Malaysia-trained lawyer penned in a recent Facebook post.
"Later, I would like to ask a MP contact (whether government or opposition) to get more detail on the matter in the (ongoing) parliamentary session. Is the sum of RM2 bil a year true and how many hundreds (or thousands) of former MPs receive such heavenly-standard pension payments?"
Interestingly, the RM2 bil figure by Khairul Anwar was sparked by a post by netizen Muhamad Harris Nasril which raised the need to amend the Members of Parliament (Remuneration). Act 1980 (Act 237) which stipulates that MPs who complete 36 months (three years) of service are entitled to a pension of three-fifth (60%) of their salaries.
"For example, if the salary of a MP is RM16,000, his pension will be 3/5 of RM16,000 which works out to RM9,600/month," rationalised Harris. "But this has yet to take into account his other governmental posts during his tenure which salaries can amount to RM100,000/month."
According to Act 237, the above pension scheme is applicable to individuals who hold the ranks of MPs on or after July 1, 1990 and having completed 36 months of reckonable service. However, if he has yet to attain 50 years of age on the date he ceases to be a MP, he may be granted a pension only upon clocking 50.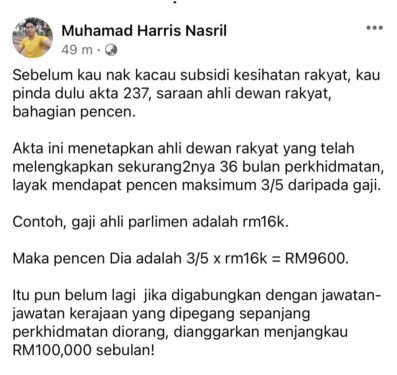 Reacting to the issue, netizen FreeMalaysian (@FreeMsian) shared that Singapore has abolished pension for its ex-MPs and ministers in 2012 via the implementation of its Parliamentary Pensions (Abolition) Act 2012.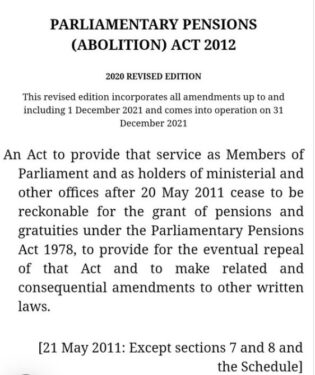 "Singapore MPs do have their own career unlike Malaysia where politics is their only career for most useless politicians," he observed.
"Malaysia hides a lot of sensitive data behind our eyes. I want to know how much they spend on personal privileges of VVVIPs and VVIPs in this country. I am sure that will come to an extraordinary sum, charged to us, paid by tax collected or debts to be paid back by our children."
Taking the matter a little further, FreeMalaysian also highlighted that Singapore has also done away with pension for most civil servants and replaced with its retirement scheme Central Provident Fund (CPF) which is akin to Malaysia's very own Employees Provident Fund (EPF).
"Civil servants get pay marked to market and given the same treatment as private sector workers for pension," he revealed.
"This is much better rather than ballooning pension liability for the government with no equal reserves to match the pension obligation … funds in Kumpulan Wang Persaraan (Diperbadankan) [KWAP] are far too little to match pension obligations." – June 6, 2023