AS Perikatan Nasional (PN) secretary-general Datuk Seri Hamzah Zainudin confirmed that the coalition has submitted statutory declarations (SD) from 112 MPs to Istana Negara at noon today (Nov 21), a damning media statement intended to tarnish the image of UMNO treasurer Datuk Seri Hishammuddin Hussein has gone viral on the social media.
The statement which contained the names of 10 UMNO MPs, including that of the caretaker defence minister, who were said to be backing Perikatan Nasional's (PN) chairman Tan Sri Muhyiddin Yassin as Malaysia's 10th Prime Minister (PM) was later denounced by an aide to as "fake"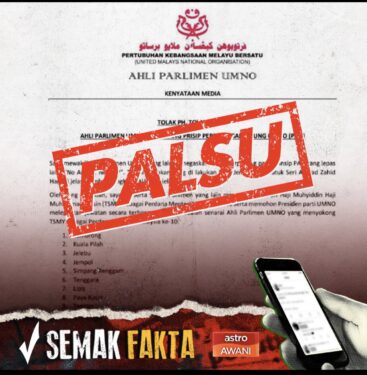 Interestingly, the statement which was allegedly signed off by Hishammuddin, has mentioned him (Sembrong MP) as well as nine other UMNO MPs comprising Kuala Pilah, Jelebu, Jempol, Simpang Renggam, Tenggara, Lipis, Paya Besar, Tampin and Titiwangsa as being supportive of Muhyiddin.
Nevertheless, Hishammuddin stood firm on his word in rejecting a collaboration with Pakatan Harapan (PH).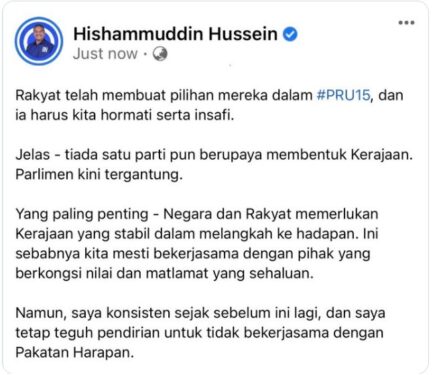 "As I have repeatedly said before, I stand firm in rejecting collaboration with Pakatan Harapan," he reiterated in a recent Tweet. "I'm willing to be sacked by the party, but I will never change my mind. No Anwar, No DAP – if those in power think they can sack me for taking this stance, so be it."
Also vocal about the move by UMNO president and Barisan Nasional (BN) chairman Datuk Seri Ahmad Zahid Hamidi to negotiate with his PH counterpart Datuk Seri Anwar Ibrahim the prospect of a possible PH-BN coalition government is Johor Menteri Besar Datuk Onn Hafiz Ghazi.
Having urged Zahid to resign and not negotiate with PH, Onn Hafiz has now asked Johor UMNO members if they were willing to work with PH and DAP.
"I was informed that there is a supreme council meeting tonight (Monday, Nov 21). I would like to ask the people in Johor UMNO, are you willing to collude with PH and DAP," he asked in a short statement on Facebook, accompanied with photos of Ahmad Zahid meeting with Pakatan leaders at the Seri Pacific Hotel in Kuala Lumpur as well as a 'defaced' DAP logo.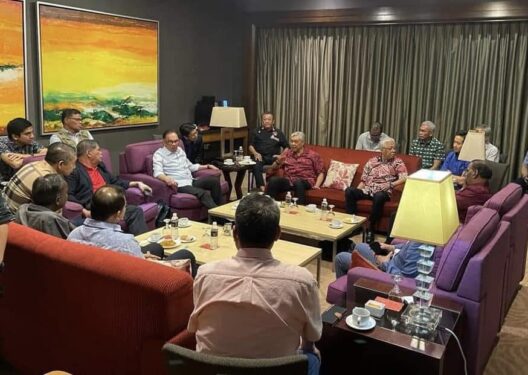 To re-cap, Onn Hafiz has been hitting out at Zahid since Sunday (Nov 20) while leading the chorus of Johor leaders urging the Bagan Datuk MP to resign following BN's devastating losses in the 15th General Election (GE15).
Coincidentally, the voices of discontent over a possible PH-BN unity government seems to stem mostly from Johor with the state UMNO chief Datuk Seri Hasni Mohammad also echoing that the next coalition government does not need to involve DAP.
The Simpang Renggam MP said the priority for political parties right now is to form a political coalition that is stable and moderate in order to lead Malaysia through future social and economic challenges.
"Therefore, Johor UMNO is of the view that the coalition (government) formed does not need to include DAP," he pointed out in a statement.
That Johor has become the base to thwart the formation of a possible PH-BN coalition government makes one wonder if Hishammuddin is opposing any potential PH-BN tie-up merely out of loyalty to UMNO's struggle or does he have any personal interest at stake.
A political observer who spoke on condition of anonymity pointed to the glaring Johor connection as both Hishammuddin and Muhyiddin are "sons of Johor".
"UMNO sources said that he's arranging for some BN MPs to sign the SDs (statutory declarations) in favour of Muhyiddin to become the PM," the observer shared in a WhatsApp text.
"It's not surprising that several UMNO members, including MIC and MCA leaders, are calling for Zahid's resignation. Please note the first of such call originated from Johor MB."
"It's becoming obvious that the new information chief of UMNO, Isham Jalil, has called for UMNO to remain in the opposition to thwart Hishammuddin's attempt in carrying out his evil plan," added the observer. – Nov 21, 2022