THAT Wisma Putra is supposedly on course to appoint a career diplomat to fill the more-than-one-year void for the position of Malaysian ambassador to Indonesia is as good as shutting the door in the face of aspirant government backbencher chief Datuk Seri Tajuddin Abdul Rahman. 
This latest development was revealed by the Indonesian ambassador to Malaysia Hermono during a podcast session with BFM's The Breakfast Grille today. 
"I was told that the new candidate (is ready)," he told the business radio station, refusing to divulge too much information, except that: "I heard that (the candidate) is a career diplomat." 
Hermono was earlier interviewed by the station's presenter Shazana Mokhtar on the subject of "Indonesia on the Cusp of Transformation" which also touched on the hiring and abusing of domestic workers in Malaysia and the pain points in Putrajaya-Jakarta bilateral relations.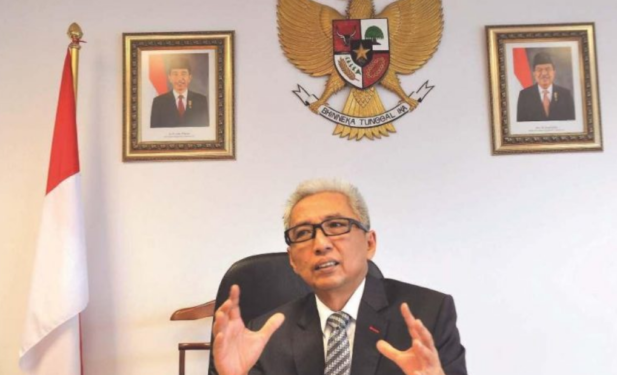 Based on Hermono's account, this means that the controversial and vocal Pasir Salak MP is out of contention for the coveted post given that he was never a career diplomat by training. 
Commenting further on the initial move to appoint Tajuddin as ambassador to Indonesia, Hermono said Jakarta is leaving its "100% up to Malaysia" even though the Indonesian Government is aware of the controversies surrounding the former's appointment. 
"There was no objection nor intervention … we fully respect the appointment of any candidate deemed fit by Putrajaya for the post but of course we want to have the best Malaysian citizen to assume the post," asserted Hermono.  
"(However, the very fact that) the position has been vacant for such a long time sends a negative message to Jakarta." 
On July 12, Tajuddin was reportedly dropped from the list of envoys who were scheduled to receive their appointment letters from the Yang di-Pertuan Agong Al-Sultan Abdullah Ri'ayatuddin Al-Mustafa Billah Shah. 
The selection of the outspoken UMNO lawmaker has been a point of contention following his rude mannerism in the handling of a Light Rail Transit (LRT) collision in May last year which eventually resulted in his resignation as chairman of Prasarana Malaysia Bhd. 
Incidentally, his omission from the list of envoy came despite Prime Minister Datuk Seri Ismail Sabri Yaakob stating on July 2 that calling for the UMNO veteran's appointment to be retracted is akin to going against the monarch's wishes. – Sept 29, 2022