THE creation of MUDA has always been a thorn to the Pakatan Harapan (PH) coalition given its very existence can hardly be justified.
The question which has been on everyone's mind is why would PH component parties need another party for the young people when they already have their youth wings?
Although MUDA is supposed to whip up the support base for Undi18, surely the youth wing of PH component parties cannot rely solely on MUDA to win the hearts of young voters.
There looms a risk of MUDA choosing to go on its own way by joining a new coalition. This, we believe, is on the top of the minds of PH leadership which have yet to be resolved.
Recently, MUDA's deputy president Amira Aisya Abd Aziz has also shown that MUDA has no qualms about calling on Prime Minister Datuk Seri Anwar Ibrahim (PMX) to apologise for what she considers as "a joke" he made to a female student during one of his recent public dialogues with varsity students.
Yes, this was even when it was hardly anything wrong – and everyone knew Anwar was just teasing the Sixth Former who posed two intelligent questions during the `Meet Anwar' session at Universiti Sains Islam Malaysia in Nilai, Negri Sembilan by asking for her phone number. It was Anwar's way to connect with the audience.
This has not only sparked a debate on the social media, but Amira Aisya's lack of maturity is obvious from the way she tried to impose her own values on PMX.
Therefore, unless this "controversy" is dealt with wisely by MUDA president Syed Saddiq Syed Abdul Rahman by giving a plausible explanation that MUDA is crucial to PH's overall strategy, it is unlikely that MUDA will be accepted as a component party.
Next, going solo on its own in the upcoming state elections would not benefit MUDA and PH in the long run. While it tries to justify its existence, MUDA like most other smaller parties which are niche-based will find it hard to appeal to the broad spectrum of voters who come from all walks of life.
Syed Saddiq, the Muar MP and MUDA's only people's representative in the unity government, may be a PM in the making but it will take at least another 15 to 20 years for him to develop himself and understand what makes a good premier.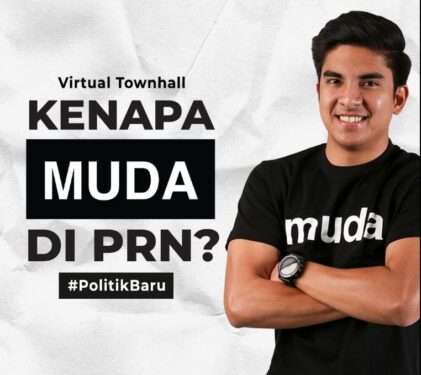 In fact, for good succession planning, PMX should take on a few untainted young people to be groomed as future leaders, of whom Syed Saddiq could be one of the candidates.
Even if Anwar has his team of possible successors in mind – for practical reasons – would Syed Saddiq from another party be on his list? We doubt so.
The other question one would have to ask is would MUDA be able to carry on with its long-term plans? By being MUDA, what would be the age limit for its membership?
Although Syed Saddiq has rejected the notion that MUDA has an age cap for its members, he himself is already 31. In just nine years from now or even earlier, he may have to leave the party which he set up for greener pasture. Which party would he join or would he still have his support base with him? Would they move en bloc to another party?
At best, MUDA is the figment of one nonagenarian or his tycoon friend's imagination which is meant to fail unless Syed Saddiq can convince the PH leadership of his grand plan. – June 30, 2023.
Main pic credit: Malaysiakini