IT will be a double whammy for Bersatu president Tan Sri Muhyiddin Yassin if indeed he is the former Prime Minister (PM) in the centre of a recent New Straits Times (NST) article entitled "MACC probing former PM and son-in-law" in relation to a lucrative government contract linked to the Immigration Department.
Indeed, this has come so soon after the Perikatan Nasional (PN) chairman was embroiled in another probe by the graft buster agency which culminated in a freeze of Bersatu's bank accounts under the law against money laundering.
While the accounts freeze is linked to an investigation into alleged misappropriation of billions of ringgit meant for COVID-19 stimulus packages, the latest MACC investigation is focused on possible abuse of power in the award of the National Integrated Immigration System (NIISe).
"MACC is looking at how the contract was given and the company's links to those who were in power at the time," a close source to the anti-graft agency told NST.
"There have been suggestions that NIISe which is being developed to replace the Immigration Department's existing foreign workers registration mechanism by 2025 is a sick project."
The department's website shows that one administrative and diplomatic officer Ruslan Atan is in charge of the "NIISe Special Project Team", according to the mainstream media. "MACC may be calling in senior members of a previous administration as part of its investigations," it added.
On Tuesday (Feb 7), UMNO supreme council member Datuk Dr Puad Zarkashi has zoomed in on Muhyiddin's son-in-law Datuk Adlan Berhan following a revelation by Prime Minister Datuk Seri Anwar Ibrahim that "there is (a) son-in-law who received (lucrative) projects".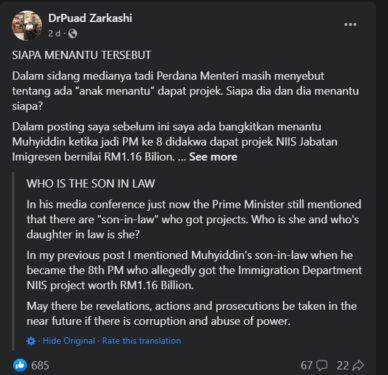 Anwar who is also the Finance Minister had said he took a strong position against those who criticised the appointment of his daughter Nurul Izzah as his senior economic/finance adviser, especially by those who "awarded contracts worth billions or hundreds of millions of ringgit to their sons or sons-in-law or cronies when they were in power".
"In my previous post, I mentioned Muhyiddin's son-in-law who was alleged to be given the NIISe project worth RM1.16 bil when he became the eighth PM," Puad has penned on a Facebook post.
"May there be revelations, actions and prosecutions be taken in the near future if there is corruption and abuse of power."
Adlan was alleged to have links to one of the NIISe project's front-runners, namely security solutions provider S5 Holdings Inc, according to a report in news portal The Vibes.
The system was reportedly mooted by Muhyiddin when he was home minister in the 2018-2020 Pakatan Harapan (PH) government after the Sistem Kawalan Imigresen Nasional (SKIN) was terminated by Muhyiddin because of high costs.
Estimates put NIISe' cost at about RM1.2 bil or 66% less than the RM3.5 bil cost of the former project. – Feb 9, 2023