THE writing has been on the wall to say the least, hence news that two-time former premier Tun Dr Mahathir Mohamad and a dozen other members have quit Pejuang late yesterday (Feb 10) is obviously least surprising.
In a letter issued to Pejuang secretary-general Datuk Amiruddin Hamzah, the former Langkawi MP and 12 other members said they made the decision after the party decided to severe ties with the Gerakan Tanah Air (GTA) coalition.
That Dr Mahathir decided to walk away from the party that he founded just over two years ago is itself an indication that there could be a clash of political direction with his fifth child and only political heir Datuk Seri Mukhriz Mahathir who currently helms the party.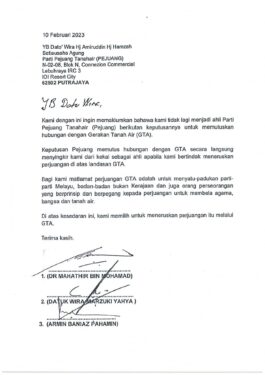 Soon after Pejuang's second general assembly on Jan 14, party president Mukhriz announced the party's withdrawal from the GTA pact to focus on strengthening the party following its 'total wipe out' in the 15th General Election (GE15) which culminated in all its candidates – including Dr Mahathir and Mukhriz – losing their deposits.
Following Pejuang's withdrawal, the GTA coalition is now left with Parti Bumiputera Perkasa Malaysia (PUTRA), Barisan Jemaah Islamiah Se-Malaysia (BERJASA) and Parti Perikatan India Muslim Nasional (IMAN).
The 98-year-old politician had on Dec 16 quit as chairman of Pejuang which he founded in 2020 after quitting Bersatu (which he co-founded) in the aftermath of the Sheraton Move after the Pakatan Harapan (PH) government which he led was toppled after a mere 22 months in power. But he stayed on as GTA chairman amid reports that Pejuang was considering leaving the coalition.
"The decision by Pejuang to cut ties with GTA automatically removes us from the party as we are continuing our struggle under the GTA platform," the letter posted on Pejuang's deputy president Datuk Marzuki Yahya's Facebook page reasoned out.
"For us, the goal of GTA's struggle is to unite Malay parties, non-governmental organisations (NGOs) and also people of principle by adhering to the struggle to defend religion, nation and the country. Based on such awareness, we choose to continue such battle through GTA."
With all doors closed to him – whether at PH nor Bersatu with whom he has frosty relationship with their leaders Datuk Seri Anwar Ibrahim and Tan Sri Muhyiddin Yassin respectively – perhaps the elderly statesman should just take a step back from politics while he is still able to salvage some pride and legacy. – Feb 11, 2023