WILL the DAP lose votes or lose seats in the upcoming state polls if UMNO supporters do not vote for the party?
This is a question that has been going around on social media platforms. The answer for DAP supporters is outright: DAP need not rely on UMNO votes to win the forthcoming election in the states of Selangor, Penang, Negri Sembilan, Kedah, Kelantan and Terengganu.
In a Twitter post, former three-term Subang Jaya state assemblyman Datuk Lee Hwa Beng (@hwabeng) opined that DAP does not need UMNO's help for them to retain their existing seats as they have won previously (ie during the 15th General Election) without any help from UMNO whatsoever.
"It is UMNO that needs DAP's help to get more non-Malays to vote for them to regain the seats they have lost to PN!" he opined.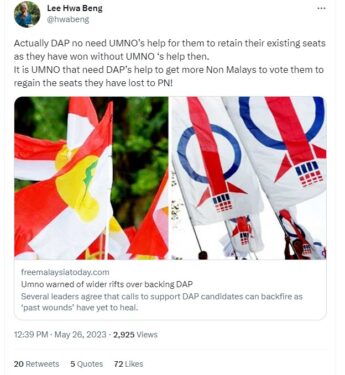 The remark is scathing but many other Twitter users supported the view with famoy (@panzer194045) remarking: "And one reason why this party continue to dominate is that they are seen to help rakyat of all races, treat everyone as Malaysian and be part of the Pakatan Harapan principle of justice and harmony."

Nevertheless, the debate is raging among PH coalition partners. There is a rift that has appeared since UMNO's secretary-general Datuk Seri Ahmad Maslan called for voters to support DAP candidates in the upcoming six state elections.
Negri Sembilan UMNO chairman Datuk Seri Jalaluddin Alias emphasised the importance of respecting voters' decisions by stating that there is no need to urge voters to support any party.
"I hope all parties would be more careful and not mention anything that can be misinterpreted," he stressed, noting that UMNO should focus on persuading the public and impressing upon them to vote for parties affiliated to the unity government.
Several UMNO leaders have supported supreme council member Datuk Isham Jalil's call for the party leadership to cease urging grassroots members to vote for DAP in the upcoming state elections.
UMNO Youth permanent chairman Wan Agyl Wan Hassan agreed with Isham, criticising Ahmad who is also a supreme council member and Pontian MP for his endorsement of DAP candidates.
While the rakyat are watching and are eager to know if there will ever be peace between the UMNO and DAP, Twitter is still buzzing about the issue of UMNO's support for the DAP.
"If this is the case, Malay should not collaborate with DAP because 95% of the Chinese community who are DAP supporters will not support anyone else," suggested netizen Zaifah (@Zaifah52Hatim).
However, this view might not be so true since PKR and Amanah candidates are also elected with Chinese support.

Replying to user Zaifah, mohsein sheriff (@mohseinshariff) noted that DAP is a multi-racial party whereby the Chinese-based party in Malaysia is MCA.
"If DAP is irrelevant in the political scene, the Chinese community would revert their support to MCA. Either way, the Chinese get the best from their representatives in the government. Unfortunately, the Malays are divided." – May 27, 2023