AS president Datuk Seri Zahid Hamidi kept mum over UMNO's latest 'cleansing ritual', the party's former Putrajaya deputy chief Datuk Tun Faisal Ismail Aziz has become the third UMNO 'dissident' to be expelled from the party after its former Youth chief Khairy Jamaluddin and former Selangor UMNO chief Tan Sri Noh Omar.
In a Facebook post, the former press secretary to former communications and multimedia minister Tan Sri Annuar Musa said he was contacted by the UMNO headquarters which also forwarded him via WhatsApp a copy of his termination letter at 4.28pm yesterday (Jan 31).
Tun Faisal reckoned that his sacking came following a live video the decision of the party's supreme council "to cleanse UMNO of (its president) Datuk Seri Zahid Hamidi's opponents".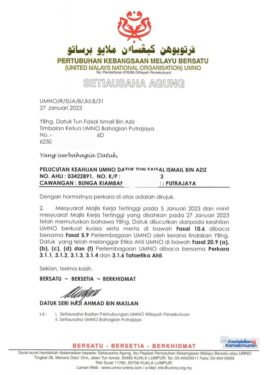 "Maybe the supreme council members took notice of this and realised there is one more person that they forgot to publicly sack. So, including me, maybe the actual number of UMNO Putrajaya members who has been sacked/suspended is 10".
Tun Faisal who was suspended for six years in March 2021 further noted that he had filed an appeal back then "not because I am guilty but because of the dubious and complicated sentencing process".
"The disciplinary board tribunal failed to prove me guilty because firstly I did not in any way slander Zahid. The letter of support for (Datuk Seri) Anwar Ibrahim to become Prime Minister is true and the disciplinary board failed to prove otherwise," he justified.
"Secondly, I did not make open criticism but instead gave views and suggestions to Zahid following the exposure of the letter and his failure to get the support of supreme council members and BN (Barisan Nasional) MPs to support Anwar to become PM."
Added Tun Faisal: "Moreover, the whole process of filing a complaint by the UMNO Putrajaya Division head (Datuk Seri Tengku Adnan Tengku Mansor) was mala fide because he has vested interest."
Apart from Tun Faisal, Khairy and Noh, the UMNO supreme council had on Friday (Jan 27) also issued a six-year suspension against Sembrong Umno chief and MP Datuk Seri Hishammuddin Hussein, its former information chief Shahril Hamdan, and former Youth exco member Datuk Dr Fathul Bari Mat Jahya.
Also suspended for six years were former Johor state exco member and Tebrau Umno division chief Datuk Maulizan Bujang and former Jempol MP Datuk Seri Mohd Salim Shariff.
In his latest FB posting, Tun Faisal also explained that his animosity against Zahid escalated following the latter's desire to appoint Anwar as PM "and wanted to forge an alliance with PKR and DAP whose ideologies deviated against the teaching of Islam".
"Especially after his repeatedly cheating and betrayed, including an attempt to overthrow the government which resulted in political instability in the country when it was hit by COVID-19, I broke away from Zahid and his group," he shared.
"For me, the most important loyalty is to uphold the struggle of Islam and the ummah (Muslim solidarity); secondly, to leverage the party as a platform for the congregation to achieve the aim of the struggle; and thirdly, respecting the leader as long as he leads us on the right path." – Feb 1, 2023