Letter to editor
PRIME Minister Datuk Seri Anwar Ibrahim's announcement that Malaysians earning less than RM100,000 a year will get RM100 worth of e-wallet credit has raised many questions. This will cost the unity government some RM1 bil in the hand-out that is expected to benefit some 10 million Malaysians.
The timing of the announcement is suspect as it came some 48 hours prior to nominations for the elections in six states due on Aug 12. When Pakatan Harapan (PH) was in the opposition, it had made much hue and cry over Barisan Nasional (BN) dishing out cash to entice voters to support the latter.
PH leaders had given disgraced former premier Datuk Seri Najib Razak the moniker "Cash is king". But isn't PH doing the same with the announcement?
Even if Anwar's motivation was not political, his advisers should have pointed out to him that the optics of the decision would make his administration look bad. This is because his Madani government is again seen as back-pedalling on the reform agenda, including the pledge of not abusing government machinery for political ends.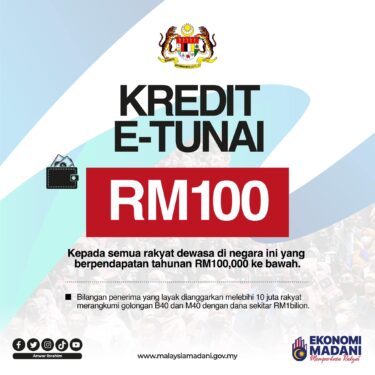 Anyway, RM1 bil is no small amount especially when Anwar who's also the Finance Minister kept lamenting about the government's finances, particularly the yawning budget deficit and RM1 tril national debts.
Besides, doling out cash to individuals who earn RM8,000 per month is questionable as the money should have been channelled towards more deserving ones such as the hardcore poor, if not the B40.
And why didn't Anwar include this in Budget 2024 which he tabled on Feb 24? Or if he's adamant in handing out cash, couldn't he have held back the announcement by 16 days when the state polls are already over? Does the 16 days matter to Anwar unless it's to sweeten the deal for voters in the six states?
The PM has a lot to answer over the decision to hand RM100 to some 10 million Malaysian adults. And if he doesn't address these concerns well, he'd have to answer to voters whether in the six states or during the next general election.
Mohd Amsyar Jamal
Bangi
 The views expressed are solely of the author and do not necessarily reflect those of Focus Malaysia.
Pic credits: Datuk Seri Anwar Ibrahim's Facebook