WHETHER this is his sarcasm trademark or otherwise, two-time premier Tun Dr Mahathir Mohamad has seemingly apologised for accusing the Europeans of liking war.
Recall that on Feb 24, Malaysia's longest serving premier (22 years from July 1981 to October 2003) had linked the on-going war between Ukraine and Russia to the Europeans' love of war, of hegemony and of dominance.
Yet again, knowing Dr Mahathir, nobody knows for sure if he meant what he says or simply trying to be 'provocatively sarcastic' at best.
"Dear Me. Sorry if I accuse Europeans of liking war. I studied European history. It is all about European wars," the 98-year old politician who recently exited Pejuang which he founded to join Parti Bumiputera Perkasa Malaysia (Putra) penned on his Facebook page.
"You have the Seven Years War, the hundred years war, the War of the Roses etc etc etc.  The two World Wars started in Europe."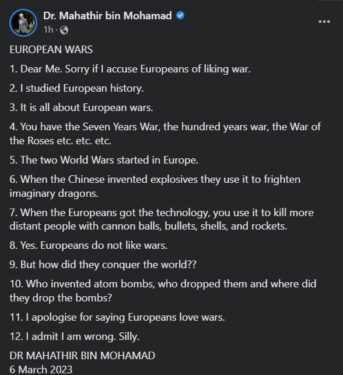 The world's oldest serving state leader (Dr Mahathir was 94 at the time of his resignation in his second stint as prime minister in March 2020 due to the collapse of the Pakatan Harapan administration) eventually drew the analogy that "the Chinese invented explosives to frighten imaginary dragons".
"(But) when the Europeans got the technology, you use it to kill more distant people with cannon balls, bullets, shells and rockets. Yes. Europeans do not like wars," argued Dr Mahathir.
"But how did they conquer the world? Who invented atom bombs, who dropped them and where did they drop the bombs? I apologise for saying Europeans love wars.  I admit I am wrong. Silly."
That the nonagenarian is still sharp at his age impresses netizen Jagdev Kaur Jassal who is also 'sarcastic' in her comment:
"Great, you are known for your sarcasm, scepticalism and being a recalcitrant but to me you are also a never-ending analysist without research but through prejudice and an archaic mindset," opined Jagdev.

Selvanesan Arul Chelvam also reminded Dr Mahathir that had he been a European and lived in those dark ages, "you would have done likewise if not worse".
"Count your blessings for who and what you are today," he advised. "Some sayings of yours doesn't reflect a personage of your stature and age. Some habits never die with age and some get wiser with age. So, folks … no sarcasm please … just my humble view."

Netizen Hoi Meng also took a swipe at Dr Mahathir for still harbouring thoughts about war at his advanced age.
"Has he forgotten that deep inside him, he wants war to return? Better don't get carried away lest you get a stroke later. Better to spend precious moments with your great-grandchildren or enjoy the beauty of nature." – March 6, 2023