UMNO Supreme Council member Isham Jalil's interest in contesting in the 15th General Election (GE15) is now not just mere talk or speculation but a probability after managing to raise RM74,000 for his political campaign. 
Isham who has been critical of Pakatan Harapan (PH) in recent weeks now makes sense after expressing his interest as a GE15 candidate. Isham who has an impressive educational background and having been former prime minister Datuk Seri Najib Razak's special officer from 2013-2016, can be regarded as an ideal candidate for GE15.
His vast experience in politics and governance might be of an advantage in his candidacy under the Barisan Nasional (BN) ticket. Having served as BN Selangor' Information head and communications advisor for BN Melaka during the state's by-election all adds to his resume should he be given a seat to contest by the UMNO leadership. 
According to Malaysiakini, Isham said he had met with UMNO President Datuk Seri Ahmad Zahid Hamidi, however explained that the latter has yet to decide on his possible candidacy or where he is expected to contest if given a mandate in the polls which must be held within 60 days of the dissolution of Parliament.
"I am making preparations. He (Zahid) did not say if I am expected to be a likely candidate, but I have to be prepared.
"I am a party member. I was not nominated for GE14 but continued working for the party. And if given an opportunity to contest this time, I am ready. If not, I will still serve UMNO," he was quoted as saying.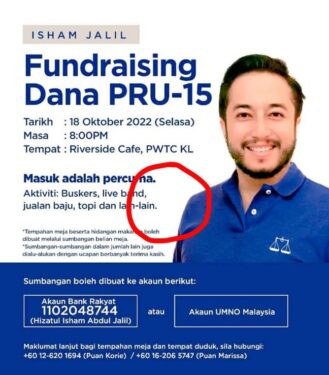 He went on further stating although the Election Commission (EC) had put a RM200,000 expenditure limit on election campaigns, he hoped to spend RM100,000 when initially he only intended to raise RM50,000 from his public fundraising efforts. 
"For more than four years, I had used my own money never touching the party's money, hence the need of raising funds for my campaign," he added. 
He was firm on his decision to use the fundraising method on his possible fielding to control political funding and increase transparency all for the better. 
Could it be that Isham might just be the guy needed to clean UMNO's name from corruption and embezzlement of funds? Isham seems determined to bring about transparency and a change in the party through organising his own fundraising for his campaign clearly showing that he is not depending on the party to fund his election campaign.  – Oct 19, 2022 
Main photo credit: The Star