AT one end, Bersatu Youth chief Wan Ahmad Fayhsal Wan Ahmad Kamal has defended his party president Tan Sri Muhyiddin Yassin at the party's annual general assembly yesterday (March 12) by stating that it is not right to compare the latter with incarcerated former UMNO president Datuk Seri Najib Razak who had indulged in a "large worldwide financial scandal" in the likes of 1MDB (1Malaysia Development Bhd).
At another corner, UMNO information chief Datuk Isham Jalil has described as "funny" the claim of the Perikatan Nasional chairman that he had voiced his intention to resign during the Bersatu supreme council meeting but only for fellow party leaders to reject such move.
"Who would believe in this type of drama? If you are principled and want to resign, be a gentleman and hold an open media conference like DS Najib did after the GE14 (14th General Election)," penned the former special officer to Najib when he was the prime minister on his Facebook page.
"Then only leave it to the supreme council to accept or reject your decision. This should be the way as opposed to making your own drama which is then screened to the people as an excuse to retain Muhyiddin."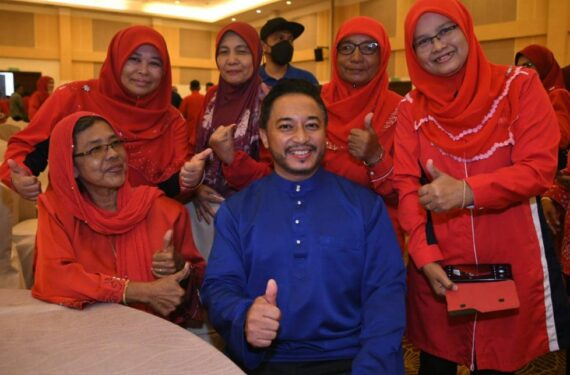 Isham who assumed office as UMNO information chief on Nov 20 last year to replace Shahril Sufian Hamdan also took a swipe at the so-called "Bersatu standard" that its leaders would graciously step down if ever they are charged in court.
Recall that the party's information chief and Tasek Gelugor MP Datuk Wan Saiful Wan Jan resigned from his post almost immediately on the day he was charged with soliciting and accepting RM6.9 mil in bribes in relation to a Jana Wibawa project on Feb 21.
"They used to call UMNO kleptocrat bandits, and they always told UMNO leaders who had court cases to resign. And last week alone, Muhyiddin said Bersatu's standard is that leaders will resign after being charged," chided Isham.
"But now after Muhyiddin himself has been charged, the Bersatu supreme council not only did not allow Muhyiddin to resign but has supposedly 'forced' him to agree not to resign. Therefore, either the Supreme Council of Bersatu does not follow their own standards or they are merely kaki sembang kari (bragging about something that is not true)."
Added the UMNO supreme council member (in an earlier related post): "He used to call people a kleptocrat in the past but now his kleptocratic case is the biggest in Malaysian history.
"Now he wants to create "Gelombang Abah @ Gelabah" (Abah Wave @ Nervous) where he will ride on the PN/PAS component party as usual because Bersatu has no roots.
"In the future, please refrain from using contractors' commission from direct negotiations of government projects for your political campaign as you had allegedly done previously." – March 13, 2023