UMNO supreme council member Isham Jalil has taken a pot shot at former twice premier Tun Dr Mahathir Mohamad who praised the Ukrainians for their courage to battle the Russian might but "meekly conceded defeat" by surrendering Pulau Batu Puteh to Singapore.
"Tun, Ukraine fights back when people want to invade its territory. Compared to us when Tun was the seventh prime minister (PM), Tun just handed over our territory of Pulau Batu Puteh to Singapore without fighting in the International Court of Justice (ICJ) even though at that time we had new evidence showing that the island was part in Johor and Malaysia," the former UMNO information chief retaliated to a recent Facebook post entitled "Nation State".
"At that time (June 2018) when I asked Tun and the government to file an appeal to the ICJ, Tun turned a deaf ear until the time for us to file an appeal expired and we lost Puau Batu Puteh and its surrounding sea area forever."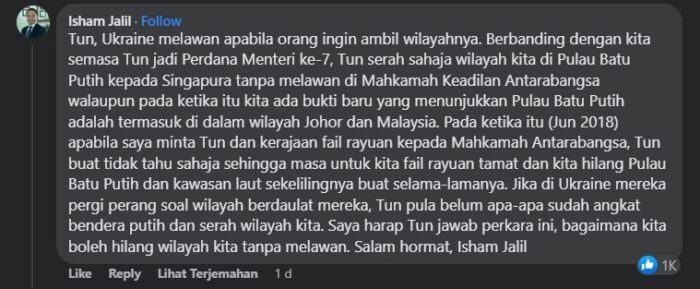 Added Isham who contested for the Shah Alam parliamentary seat during the 15th General Election (GE15) but lost to Amanah's Azli Yusof: "If Ukrainians go to war over their sovereign territory, Tun has raised the white flag has surrendered our territory without any fight. I hope Tun can address how we lost our territory without fighting back".
For the uninitiated, Dr Mahathir who is the Proklamasi Melayu chief advocate was leveraging the guts of the Ukrainians to rally the Malays to unite under his so-called self-centric agenda.
"Thus, when the Russian army attacked, Ukrainian soldiers and citizens defended their territory. Thousands of Ukrainian soldiers and civilians were killed and seriously wounded defending their country," penned Dr Mahathir on his Facebook page.
"But they weren't afraid. They will continue to defend their country even though more people will die whether seriously injured or their country is destroyed.
"(But) we in Malaysia are willing to accept foreigners as citizens. We are willing to share our country. But not until this beloved country is owned by the descendants of foreigners and we become a poor tribe in this rich country."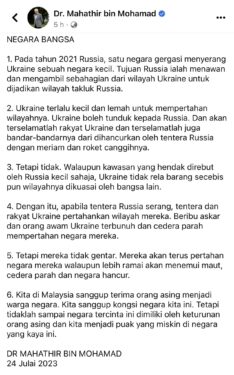 Recall that former attorney-general (AG) Tan Sri Mohamed Apandi Ali had on July 8, 2021 claimed that Dr Mahathir had during his 22-month reign as the seventh PM decided to withdraw the review and interpretation of the judgment regarding the sovereignty of Pulau Batu Puteh as well as Batuan Tengah and Tubir Selatan in 2018.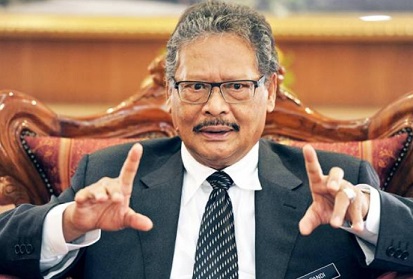 Apparently, Dr Mahathir made the decision a few days before the case was scheduled to be heard at the ICJ in The Hague, Netherlands on June 11, 2018.
"The island is gone forever, thanks to Tun Mahathir. He is the one who made the decision to withdraw the case a few days before the trial date at the ICJ. At that time I was ordered to go on vacation as the AG," Apandi told Berita Harian. – July 26, 2023