VETERAN lawmaker and DAP supremo Lim Kit Siang has likened the forthcoming 15th General Election (GE15) as the most important national poll in Malaysia's 65-year history: it is "the last chance to save Malaysia from being a second-rate mediocre country".
And instead of letting the country" deteriorate to become a third-class failed state like Sri Lanka and Zimbabwe by Malaysia Centennial (year 2057)", GE15 is the last hope to fulfil Malaysia's potential to become a great world-class plural nation (again).
"I have devoted 57 years of my life to Malaysian politics, including 15 months in Muar at the Muar Detention Centre in 1969-1970 but I have not given up on the Malaysian Dream where all Malaysians regardless of ethnic group or creed can find a better and more fulfilling life in Malaysia – whether political, economic, social or in the environment field," shared the 81-year-old Iskandar Puteri MP.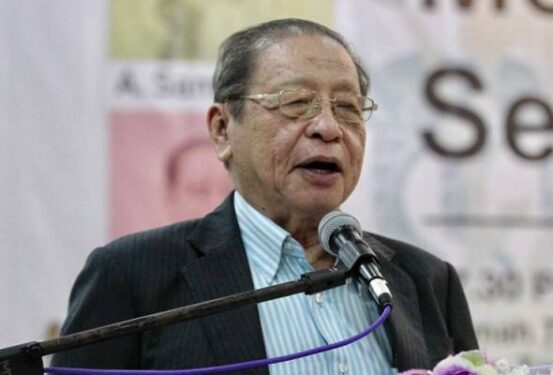 "(But), we have not fulfilled our Malaysian Dream in the last six decades. Instead, we have lost out economically to one country after another – Taiwan, Singapore, South Korea, Hong Kong and Vietnam.
"Unless we buck up, we will lose out to more countries," Kit Siang told a Muar DAP Dinner to announce the party's candidates for the parliamentary seats of Bakri, Labis and Ayer Itam last night (Oct 27).
Kit Siang said Malaysia must recognise that the country is in deep trouble, reflected by the value of the ringgit which has plummeted from being at par with the Singapore dollar in 1965 but "has (today) devalued to one Singapore dollar to 3.345 Malaysian ringgit".
"Is it because Singapore has more talents and skills than Malaysia? It cannot be so because Singapore is great today because of Malaysian talents and skills who have gone to the island republic to make a living!" the once touted as fearless opposition leader pointed out.
"Why can't they stay in Malaysia to make Malaysia great and to realise the Malaysian Dream for all Malaysians regardless of race, religion or region?"
Therefore, Kit Siang challenged Malaysians to ask themselves two questions when they cast their vote on Nov 19: (i) whether Malaysia can be saved; and (ii) whether Malaysia is worth saving.
"Malaysia is still 'save-able' and worth saving.  If Malaysia is not 'save-able' or not worth saving, then that is the end of the story," he enthused. "But Malaysia has not reached the stage of a totally broken, divided and failed nation although we have fallen considerably from our expectations of a world-class great plural nation." – Oct 28, 2022