AFTER the defeat of the unity government in all three PAS-controlled Kelantan, Terengganu and Kedah, it is perhaps timely for the Department of Islamic Development Malaysia (JAKIM) to keep a watchful eye on what is being preached by religious scholars in the three states.
It appears that brainwashing or indoctrination of voters has been allowed to go on there for some time. If left unchecked, this could lead to potential problems for the Madani government as both UMNO and PH have been regarded as "musuh Allah" (enemies of Allah).
Although for now, the collaboration between PH and BN has managed to push back the progress of the "green wave" in another three states, namely Selangor, Kedah and Penang, the question is for how long more?
UMNO leaders together with their partners in the unity government have to go down to the ground to nullify the many years of indoctrination by PAS leaders.
Even historical facts can be distorted and told to the people. In January 2018, for example, the then-chairman of Gerakan Pembela Ummah Ismail Mina Ahmad claimed that the non-Malays did not fight for Malaysia's freedom.
Often, it is civil leaders such as Persatuan Patriot Kebangsaan (PATRIOT) president Brig-Gen (Rtd) Mohamed Arshad Raji who had come forward to state the truth.
To counter the progress of such movement, the Madani government has to bring the true teachings of Islam into the pondok schools, tahfiz education, surau and mosques. Politics should not be allowed to split the ummah (Muslim solidarity) in mosques.
For this reason, Prime Minister Datuk Seri Anwar Ibrahim on March 7 has urged all parties to respect the ban on politicians giving lectures or political talks in mosques and surau.
The main contentious issue (in the recent state elections), according to one observer is "sending 80% voters to heaven". Banners promising voters a vote for PAS is the path to heaven have appeared throughout the campaign.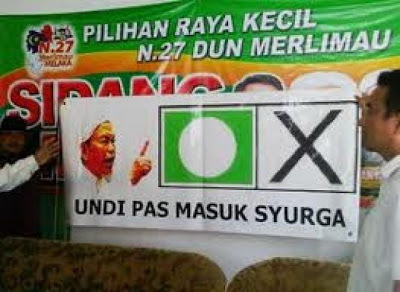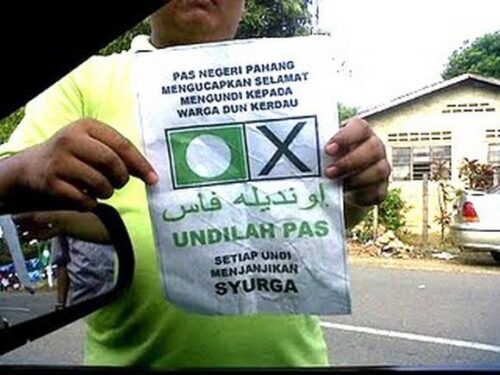 Throughout the entire campaign period, banners urging voters to choose PAS as the vehicle to heaven have appeared, but as another netizen had asked in jest if after voting, how many of them really choose to die in order to get to heaven earlier.
In the run-up to the state elections, there was a video clip sighted by FocusM that shows young children at a gathering at the Bukit Rakit constituency in Setiu, Terengganu holding PAS flags in an effort to mould youngsters to pledge allegiance to PAS.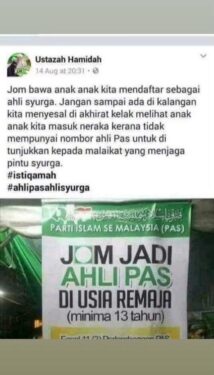 Other alarming videos have also surfaced which the Madani government would do well if it begins to address the spread of ideologies that may run contrary to the Rukun Negara (National Principles).
In the video below, an ulama/ustaz who was apparently speaking in the Kelantan dialect was seen giving an answer to a question raised about who to vote – Muslims or non-Muslims.
To be fair, he justified his answer by ending it with what international ulama said about Muslims voting non-Muslims "provided that they do things that benefit the ummah and they are not enemies of Islam".
However, what surprises most people is that in his explanation of over a minute, he delved into an ideology that borders racial segregation: "Allah created the world only for the Muslims," he readily asserted. "The non-Muslims are only guests."
On who to vote, he explained that Muslims must always vote only Muslim candidates even though they may be Persian Muslims whom he considered as better than the kafir (infidels).
If anything, his illustration of a vehicle driven by a non-Muslim must always give way to a Muslim driving his vehicle if the road is unable to fit two vehicles is most bizarre; this can potentially lead to road bullies when taken to the extreme. – Aug 14, 2023
Main pic credit: Madrasah Tahfiz Al Quran Ummahatul Mukminin's Facebook