BARISAN Nasional (BN) Selangor communications head Datuk Seri Jamal Md Yunos, who notoriously created a commotion at the 2017 Oktoberfest beer festival, was rushed to a private hospital last night (Sept 17) after he collapsed while attending an event organised by the coalition in Sungai Long, Selangor.
The UMNO Sungai Besar chief, who has been diagnosed with Stage 4 lung cancer, is currently warded at the Prince Court Medical Centre in Kuala Lumpur, according to his son Amin Daniel Jamal.
"My father collapsed all of a sudden… His condition is now stable and under close monitoring by specialists at the hospital," Amin Daniel told Malay news portal Malaysia Gazette.
"The hospital has carried out a blood test to ascertain why his condition suddenly deteriorated," he added.
Hailed as the "Red Shirts" leader (a parody of Thailand's "Yellow Shirts" protest against former prime minister Thaksin Shinawatra and his successors), Jamal is notoriously remembered for smashing crates of beer with a sledgehammer in front of the Selangor state secretariat building in Shah Alam back in 2017 in protest of the Better Beer Festival.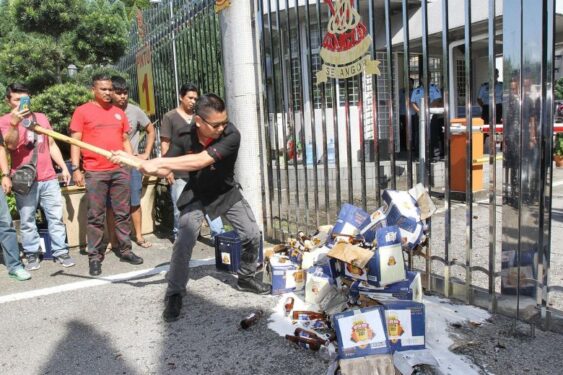 Coincidentally, he was charged with being a public nuisance in the Oct 5 incident when he was hospitalised at the Ampang Puteri Specialist Hospital seven months later on May 25 under Section 290 of the Penal Code for committing a public nuisance, where he faced a RM400 fine if convicted.
However, he went missing on the same day when the Shah Alam deputy court registrar arrived for documentation procedures.
With or without Jamal, the Oktoberfest, which has been celebrated for almost 50 years in Penang, will return on Oct 21 and 22 after a two-year hiatus due to the COVID-19 pandemic.
Now into its 48th edition, this year's festival is expected to draw people for a variety of games, entertainment, dances and food at the Malaysian-German Society MGS headquarters in Jalan Ayer Itam.
Besides singing and dancing, the festival – which is akin of the Japanese Bon Odori festival that previously sparked a furore among PAS and staunch Muslim groups – will also see Germans wearing traditional costumes called dirndls and lederhosen.
In the Klang Valley, breweries will have their own Oktoberfest promotions in individual bars. – Sept 18, 2022
Main photo credit: Malaysia Gazette