MAIN MARKET-listed property developer Jiankun International Bhd has inked a memorandum of understanding (MOU) to acquire the Unifield International College (UIC) from its owner, Dermaga Utama Sdn Bhd, for RM13 mil.
In a dual celebration, the Jiankun also marked the ground-breaking of its innovative 600-unit service apartment property development project which will host UIC's new campus within the site. UIC is a higher learning private institution (IPTS) approved by the Higher Education Ministry.
The signing ceremony and ground-breaking event were graced and witnessed by Selangor Menteri Besar Datuk Seri Amiruddin Shari who commended Jiankun for creating an integrated educational and residential community.
This strategic acquisition puts Jiankun ahead in the Malaysian property market by offering new visions for future developments.
"We believe that this partnership not only strengthens our property development but also creates exceptional living spaces that contribute to the growth of Malaysia's education sector by offering a comprehensive solution for students and residents to live, learn and thrive within a single development," commented Jiankun's chairman Tan Sri Mohamed Apandi Ali.
The addition of UIC to Jiankun's property development is expected to boost the area's transformation while providing a comprehensive range of amenities tailored for college students.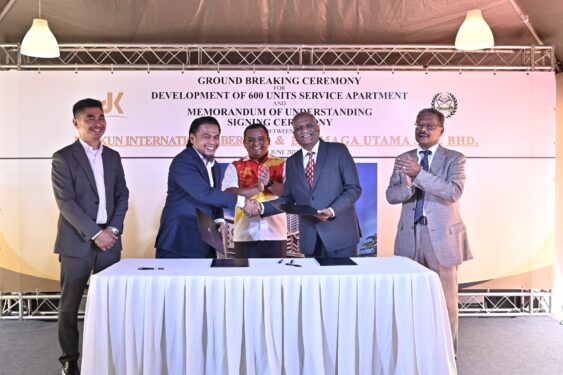 This includes state-of-the-art academic facilities, modern accommodations, sports centres, and various retail and food options within the vicinity, thus creating a vibrant and all-encompassing community.
The said property development project which is slated for completion by 4Q 2026 will have a gross development value (GDV) of RM271.9 mil where UIC plans to take up the entire commercial units worth RM29.2 mil.
This project is expected to attract both local and international students as well as residents seeking a unique, all-inclusive lifestyle. With this ground-breaking endeavour, Jiankun continues to re-define the boundaries of Malaysia's property development sector.
Jiankun executive director Edwin Silvester Das viewed the partnership as benefitting both UIC and Jiankun while at the same time contributing to the local community's development by creating a top-tier educational institution.
"We are excited about this partnership with Dermaga as it allows us to create a world-class learning environment for our students and a management team with a strong track record in running the college," he noted.
"This collaboration is set to create a unique and thriving community by seamlessly integrating UIC into property development. As a result, the partnership is expected to generate a renewed surge of interest and a robust take-up rate for the development."
Added Das: "In addition to UIC and its cutting-edge academic facilities and contemporary accommodations, the property development also features two towers with a mix of residential and commercial units. Strategically located, this development is poised to attract a diverse range of property investors, both local and international."
At the close of today's trading, Jiankun was up 0.5 sen or 2.56% to 20 sen with 952,100 shares traded, thus valuing the company at RM72 mil. – June 21, 2023