TACO Bell, a world-renowned restaurant chain offering Mexican-inspired cuisine, is making its debut in Malaysia's "foodie state", Penang. 
The launch of the Taco Bell City Junction outlet tomorrow (Oct 29) will mark the opening of the brand's 15th outlet in Malaysia and its first in the northern region.  
In conjunction with the launch, Taco Bell would like to jio ("invite" in Hokkien) Penangites to its grand opening at 10am.
The opening will be followed by a performance at 12pm by the talented Penang Free School Marching Band.
In a statement, Taco Bell Malaysia's franchise operator and City Junction branch spokesperson Harris Beh invited those in the vicinity to try its "exceptionally fresh and delicious" Mexican-inspired cuisine, saying the group recognises the passion Penangites have for good food.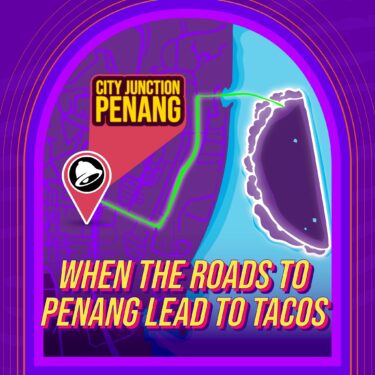 "Penangites and residents in the northern region will be greeted by our friendly and energetic restaurant crew who will ensure a truly memorable dining experience," he pledged.
"With the opening of this beautiful new location, we are excited to welcome residents of neighbouring states to try out Taco Bell for the very first time."
The spacious restaurant offers dine-in seating, both indoors and alfresco, with a total capacity of 80 people.
With several Instagram-worthy spaces and design features, it promises to be an exciting new destination for foodies in Penang.
Penangites are in for a treat as they will have a chance to try some of Taco Bell's global favourites like the craveable Crunchy Taco Supreme, Crunchwrap Supreme, Chicken Quesadilla, Grilled Stuft Burrito, Loaded Nachos, and delicious desserts such as Cinnamon Twists and Chocodilla.
For the uninitiated, the Taco Bell menu is also customisable to the preferences of any customer.
Visit Taco Bell Malaysia's website or follow them on Facebook, Instagram, TikTok and Twitter for more exciting and exclusive updates.
Taco Bell outlets are open daily for dine-in and takeaway. Delivery will be launching soon. Visit this page for more details and updates about a location near you.
Taco Bell City Junction is located at No. 2-1-3 (Lot A), City Junction, Persiaran Lengkuas 2, 10470, Tanjung Tokong, Pulau Pinang. Opening hours are from 10.00am to 11.00pm daily. – Oct 28, 2022