FOLLOWING uncertainties, Machap state assemblyman Datuk Onn Hafiz Ghazi has been sworn in as Johor's 19th menteri besar (MB) today.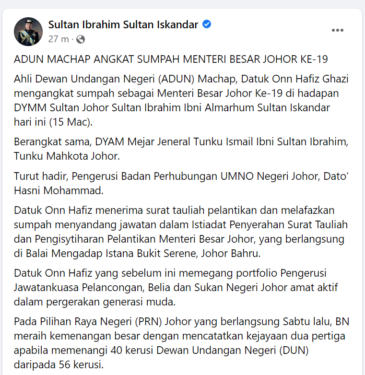 "Onn Hafiz received his appointment letter and swore his oath at Istana Bukit Serene, Johor Bahru earlier today," said Johor Ruler, Sultan Ibrahim Sultan Iskandar in his official Facebook post.  
Also present in the ceremony were Johor Crown Prince Tunku Ismail Sultan Ibrahim and Johor UMNO liaison chief Datuk Hasni Mohammad.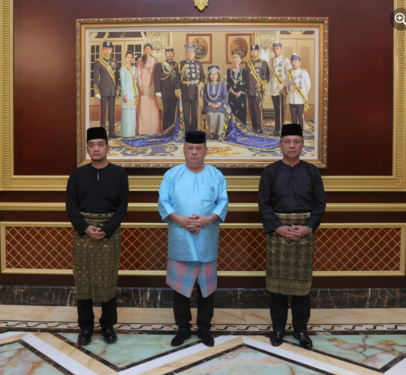 Yesterday (March 14), Hasni issued a statement saying that given that the youths had shown up in full force to support Barisan Nasional (BN), he was of the opinion that a younger candidate should be appointed as the new MB.   
"God willing, with a new leader, Johor will become stable and prosperous. As I have said before, no political party or ideology is greater than the state of Johor. Let us work together to make our Johor better," he stated.   
However, according to a report by Malaysiakini, while the party wanted Hasni to be retained as MB, a "higher power" was in favour of Onn Hafiz to succeed him instead.   
Onn Hafiz, 43, is a great-grandson of Umno founder, Datuk Sir Onn Jaafar.  
"The party wants Hasni. But 'the higher authority' wants Onn Hafiz," the source was quoted as saying.   
UMNO veteran Tan Sri Shahril Abdul Samad had referred to the MB tussle as embarrassing, adding he is now very reluctant to give a speech in the upcoming UMNO general assembly.  
In the recently concluded Johor polls, BN secured 40 out 56 seats contested. It is to note that UMNO president Datuk Seri Ahmad Zahid Hamidi had announced Hasni as their MB candidate during campaigning. – March 15, 2022