WELL, it seems that the once popular weapon of a sex scandal video in the run-up to the national polling day – as evident in the 2013 and 2018 general elections – has been swept under the blanket so to speak.
In its place is a viral video of political hooliganism which entails disruptive or unlawful behaviour such as rioting, bullying and vandalism – usually in connection with 'ambushing' the event of a rival faction.
The latest untoward viral video of that nature involving a political party top brass is that of UMNO deputy president Datuk Seri Mohamad Hasan inciting violence – purportedly shot in the run-up to the previous general election (GE14).
Whether the video is old nor new – or even if it is intended as a "low blow" by political enemies – veteran journalist Datuk A. Kadir Jasin has called on the former Negeri Sembilan menteri besar to deny his involvement.
"Mohamad Hasan's video inciting UMNO Youth to terrorise has gone viral. Asking the UMNO deputy president to deny (his involvement). Request the police to investigate," penned the former Bersatu supreme council member in his latest Facebook post.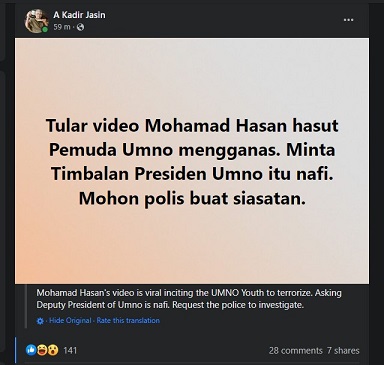 The viral video is making its round at a time when the Coalition for Clean and Fair Elections (BERSIH) has strongly condemned any violence and acts of hooliganism towards political rivals.
On Saturday evening (Oct 22), a group of thugs disrupted a dinner event by Malaysian United Democratic Alliance (MUDA) at the Yong Sheng banquet hall in Muar.
A similar interruption had occurred earlier during a MUDA ceramah in Muar – which happens to be the parliamentary constituency of the party's co-founder Syed Saddiq Syed Abdul Rahman on Oct 16.
Replying to comments from netizens that the gangsterism culture is so ingrained in UMNO, Kadir argued that regardless if such "culture exists today or even back then, it is still a criminal activity".
Likening the hooliganism culture to "characteristics of Neo UMNO", Kadir went on to describe the behaviour of the main character in the video – who seems "to look virtous and gentle" – as that of "Dr Jekyll and Mr Hyde".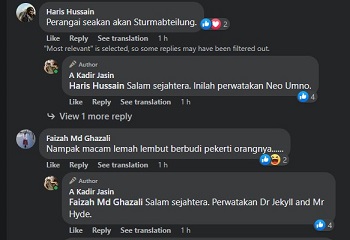 Commenting on the viral video, political critic and veteran journalist Kee Thuan Chye bluntly put it that UMNO politicians know only three things:
Play the race (sometimes religion) card;
Throw money to buy votes (when in government, practise pork barrelling like writing off FELCRA debts or giving salary increments to civil servants); and
Use violence like getting thugs to intimidate people or disrupt ceramah of other political parties.
"You seldom hear them talk about governance matters or a vision for the country," added the author of Ask for No Bullshit, Get Some More! (sequel to No More Bullshit, Please, We're All Malaysians). – Oct 24, 2022
Main photo credit: Free Malaysia Today