AS Finance Minister Datuk Seri Tengku Zafrul Abdul Aziz is seemingly getting detached from the country's economic reality, veteran journalist and blogger Datuk A. Kadir Jasin has likened the former to a "rolling stone with good fortune" as opposed to the idiomatic "rolling stone gathers no moss".
Whether this was due to a matter of "pedigree" or "royal connection", the former BERSATU supreme council member is wary that of late, people have started to be taken aback about statements on the economy and finances made by the political aspirant Tengku Zafrul.
"Bernama quoted him as saying that the Government will not be overly focused on the ringgit's performance but to instead focus on mid- and long-term economic performance," shared Kadir in a Facebook post.
"How can he remarked as if money is not important when money is the measure of value of everything we that we produce and use? The impression is such that he's trying to run away from reality or trying to undermine something that is vital to the country's economy – the very fact that the exchange rate is falling sharply."
As far as Kadir is concerned, it is public knowledge that several government measures made through Bank Negara Malaysia (BNM) have either failed or have not succeeded in achieving the expected results.
"For example, the central bank has raised the Overnight Policy Rate (OPR) thrice starting last May yet has still failed to strengthen the ringgit exchange rate. On the contrary, the local currency continues to fall to its lowest level in history," he revealed.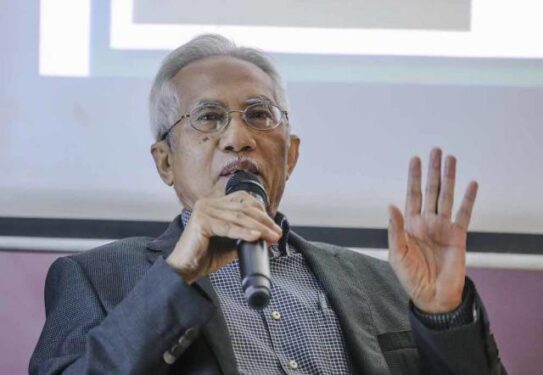 "On May 15, we needed RM4.20 to purchase US$1 but as of yesterday (Sept 19), we have to fork out RM4.54 which means that the value of the ringgit has depreciated 34 sen for every US$1 in a time span of four months."
Interestingly, Kadir was surprised as to why cheap ringgit has failed to attract foreign investors with lukewarm support accorded by foreign investors to Malaysian equities traded on Bursa Malaysia.
"On the other hand, foreign investors are selling more than buying. The FBM KLCI benchmark index has fallen from 1,543.11 points on January 3 to 1,451.52 as of yesterday (Sept 19)," he noted.
"Moreover, the measure to raise interest rates is intended to reduce inflation and boost savings. But at the same time, high interest rates can cause inflation to rise especially when the value of the ringgit falls. A decline in the value of ringgit automatically causes import inflation to rise."
As it is, Kadir said Maybank has announced that its base lending rate (BLR) has been risen to 6.15% from 5.90% with other banks following suit. This will certainly burden borrowers whether to buy a house, doing a business, buying unit trust or studying.
"What's more in an environment of a lethargic stock market and declining returns of trust funds," lamented Kadir.
"In short, what Tengku Zafrul said about the economy and finances of the country is increasingly smelling political since he started to be actively involved in UMNO and appointed as the Barisan Nasional Selangor's treasurer. Wonder if he's now harbouring dream of becoming the Prime Minister!" – Sept 20, 2022