Editor's note: DAP chairman and former Penang chief minister Lim Guan Eng has rallied Penangites to lodge police report against Kedah Menteri Besar Muhammad Sanusi Md Nor for creating public disaffection and trying to cause enmity between Kedahans and them by claiming that Penang still belongs to Kedah.
"Police reports should be lodged by 1.8 million Penangites to press for action against Sanusi to protect Penang and prevent 'political interlopers' from invading our state to ensure that we can continue our lives peacefully and enjoy prosperity," berated the Bagan MP in a statement.
"Penang PAS should state their stand on whether they will disassociate themselves with Sanusi. Should they fail to do so, then PAS should not contest in the coming state elections if they cannot fully represent the interests of Penangites as well as to defend, protect and preserve the Federal Constitution."
THE role of a Chief Minister – or Menteri Besar (MB) for that matter – is one of great responsibility to both lead the state and serve the people.
It is therefore essential that people in that capacity are able to communicate with clarity and integrity and avoid making statements that could be perceived as confusing or misleading.
Unfortunately, the recent comments made by the Kedah MB Datuk Seri Muhammad Sanusi Md Nor regarding the legitimate status of Penang have sparked a great deal of anger and frustration among Malaysians who feel that his words were irresponsible and showed a lack of respect and professionalism for the people whom he serves.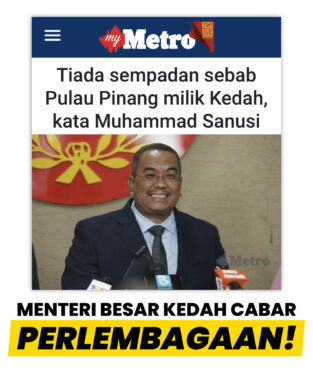 The controversy began when he made a statement regarding the ownership of Penang. He suggested that the state was originally part of Kedah and should be returned to its rightful owner, hence sparking outrage among Penangites and Malaysians across the board.
His comments were widely seen as an attempt to stoke tensions between Kedah and Penang, and to gain political advantage through the use of divisive rhetoric.
Many Malaysians were quick to criticise the Kedah MB for his remarks with some calling for him to apologise and retract his statement. Some have accused him of using dirty political tactics as a distraction from his own shortcomings as a leader, and of trying to score cheap political points at the expense of Penangites.
It is important to remember that as a MB, Sanusi has a duty to serve all Kedahans regardless of their political affiliations or backgrounds. He should therefore strive to promote unity and harmony among all Malaysians rather than using divisive rhetoric to further his own political agenda.
His uncalled for remarks about Penang have both undermined his duty and damaged the trust that many Malaysians had placed in him as a leader.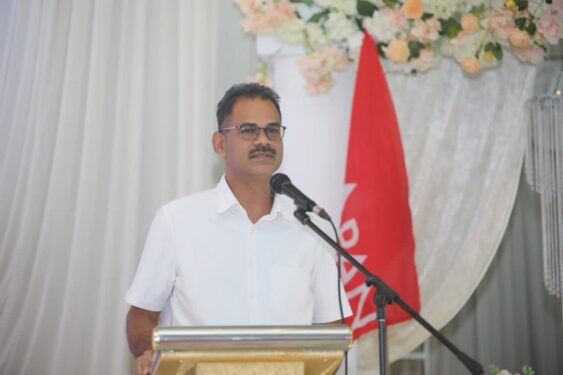 Furthermore, his comments have also highlighted the need for greater understanding and respect between the different states and communities in Malaysia. It is essential that leaders at all levels work to build bridges between different regions and ethnic groups rather than promoting division and discord.
This requires a commitment to dialogue, understanding, and mutual respect, as well as a willingness to listen to the concerns and needs of all Malaysians.
In my opinion, the recent comments made by the Kedah MB regarding Penang were both confusing and irresponsible. Besides undermining the trust that many have placed in him as a leader, his imprudent statement has caused great anger and frustration among Malaysians at large.
It is essential that leaders at all levels work to promote unity and harmony among all Malaysians, and that they communicate with clarity, integrity and respect. Only by doing so can we build a stronger, more prosperous and more united Malaysia for all despite differing political beliefs. – June 1, 2023
Papparaidu Veraman is the founder & advisor of Malaysian Indian Voice (MIV) and assistant organisational secretary to DAP Selangor.
The views expressed are solely of the author and do not necessarily reflect those of Focus Malaysia.