AS the world adapts to the cashless payment method, one school in East Malaysia is also heading down the same route as part of its vision to promote a digital lifestyle and financial literacy to its students.
Riam Road Secondary School in Miri, Sarawak, recently partnered with Hong Leong Bank to provide a cashless ecosystem for students, including reloadable debit cards, cashless payments in canteens and JomPay biller services for school fees.
In keeping with the new norm of cashless and contactless payments, the students as well as those at the Riam Institute of Technology and Riam Hill International School will soon be part of this cashless "ecosystem" and no longer need to bring cash to school for their daily needs. 
Instead, their school will now be equipped with a cashless payment system that accepts debit cards as a payment method, thanks to the school's collaboration with Hong Leong Bank under the HLB@School programme, which was piloted in October 2020.
Apart from providing the school with cashless payments and digital banking tools, the bank's financial literacy programme will be introduced to the students to familiarise them with the idea of going cashless and digital banking.
Over 1,000 Riam Road Secondary School students will start using the HLB three-in-one junior account, which includes a savings account and reloadable debit card. 
On top of that, the students will have access to the HLB Pocket Connect platform, the first in-market interactive digital banking platform for young children and their parents. 
The platform is a simple mobile banking platform with in-built earn, save and spend features that aim to teach children financial literacy and incorporate and facilitate parents' guidance as well. 
The students will be able to easily track their own pocket money, expenditure and savings, giving them a deeper understanding of the value of money and empowering them to take charge of their finances.
Similarly, parents will be able to manage and monitor their children's bank accounts anytime and anywhere through the HLB Connect online and mobile banking platform.
"Looking forward to more collabs with schools"
Commenting on collaborating with schools, HLB's general manager (personal financial services for deposits and digital) Galvin Yeo said the group looks forward to having more collaborations with schools where they can provide services that cultivate financial literacy among students.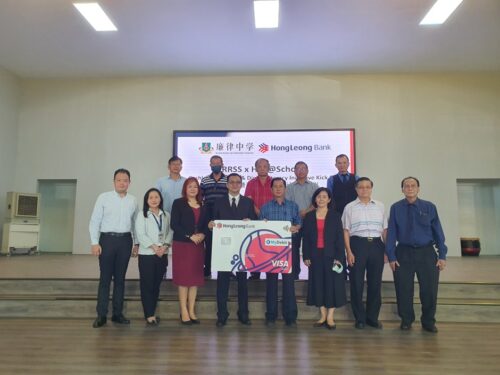 "We hope to introduce children to the digital banking experience as early as possible by using simple, seamless, cashless payment tools," he said in a statement announcing the HLB@School programme.
"This initiative to introduce these modern financial skills in schools is also in keeping with the swift acceptance and adoption of cashless payments by businesses and consumers, especially after the COVID-19 pandemic," he added.
To make the partnership even more comprehensive, the HLB team was on the ground to conduct its HLB DuitSmart Financial Literacy programme for the school as well. 
This programme benefited close to 600 students in Form 3 and Form 5 who were exposed to making financial decisions in simulated situations. 
When asked about the new updates to the school, Riam Institute of Technology CEO Dr Pauline Ho said running a school during a pandemic pushed them to rethink how they can approach education. 
"We are excited to work with HLB to help kickstart the implementation of a cashless ecosystem in our school," she said. 
"We hope that this will improve digital and financial literacy among our students and minimise contact risk at the canteen. From an administrative perspective, it will also help us digitally streamline the payment collection and reconciliation process."
She added that the HLB@School programme will empower students to cultivate a healthy relationship with their finances as well as learn to manage their pocket money and expenditures in a fun and engaging manner." – Sept 17, 2022
Main photo credit: DBS