I WAS sent a video of a group discussion of four individuals whom I do not know under the heading "Tan Sri Lim Kit Siang mengamuk bila ditanya tempat lahir beliau" on the Facebook page of one "TCH PALA".
The so-called episode that I mengamuk (went berserk)" when I was asked by airport reporters where I was born was completely fictitious and never happened.
I have never hidden the fact that I was born in Batu Pahat on Feb 20, 1941, and schooled and grew up in Batu Pahat in the 1940s and 1950s.
I enrolled in SJKC Cheng Siu in 1947, switched in 1949 to Batu Pahat English School where I completed 11 years of primary and secondary school education.
The demonisation of me as not a local born but came from China when I was 16 years old and settled in Batu Pahat in the 1950s was a complete lie.
The first time I visited China when I was in the 1950s.
Perikatan Nasonal (PN) of PAS and Bersatu relied on these lies, falsehoods, fake news and hate speech to win in the six state polls on Aug 12 but for how can they depend on lies, falsehoods, fake news and hate speech to win elections?
Editor's note: Recall that the late Pertubuhan Minda Sosial Prihatin (PMSP) president Ramesh Rao had on Aug 2, 2017 sought clarification as to whether Kit Siang was born in Malaysia or had arrived in Malaysia from China.
Ramesh had claimed that just a few weeks earlier, the retired DAP supremo's Wikipedia page had stated that he "arrived in Malaysia in 1957". However, Ramesh claimed that the page was edited 11 days prior by one "Shensihao" and the information on Kit Siang's alleged arrival was erased.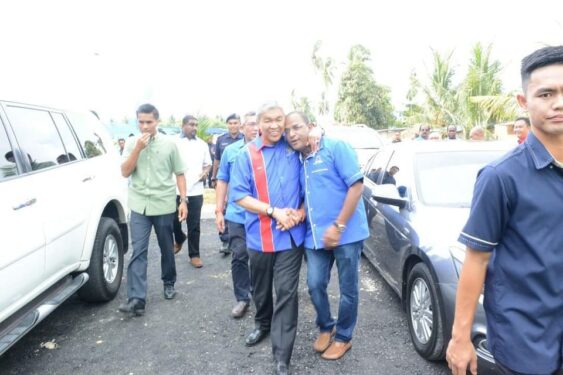 "We want Kit Siang to clarify whether he arrived in Malaysia or he was born here. If he really was born in Batu Pahat, we want to know which hospital or if he was born in a house, then who was the midwife?" demanded Ramesh who passed away on Jan 15 (barely a month after he was appointed as Indian affairs officer of Deputy Prime Minister Datuk Seri Dr Ahmad Zahid Hamidi).
"We want evidence on his birth in seven days starting today or will lodge a police report," he added before handing over a memorandum on the matter. – Aug 18, 2023
Veteran lawmaker and retired DAP supremo Lim Kit Siang was Malaysia's longest-serving opposition leader (29 years on three separate occasions).
The views expressed are solely of the author and do not necessarily reflect those of Focus Malaysia.