RETIRED DAP supremo Lim Kit Siang has called for a review of Putrajaya's decision to keep the settlement of Tan Sri Mohamed Apandi Ali's dismissal as Attorney-General (AG) by two-time former premier Tun Dr Mahathir Mohamad in 2018 an "official secret" as "it is completely indefensible in terms of public interest".
Last week, Minister in the Prime Minister's Department (Law and Institutional Reform) Datuk Seri Azalina Othman Said told Ipoh Barat MP M. Kulasegaran in a written parliamentary reply that legal counsels to both parties in the matter had agreed to conceal the terms of the settlement during their negotiations.
"This is against the public interest especially as Dr Mahathir (himself) had said that he was 'mystified' by Putrajaya's decision not to reveal the details of the settlement with Apandi over compensation for the latter's dismissal from his post," the veteran lawmaker penned in his latest blog. "I agree with Dr Mahathir".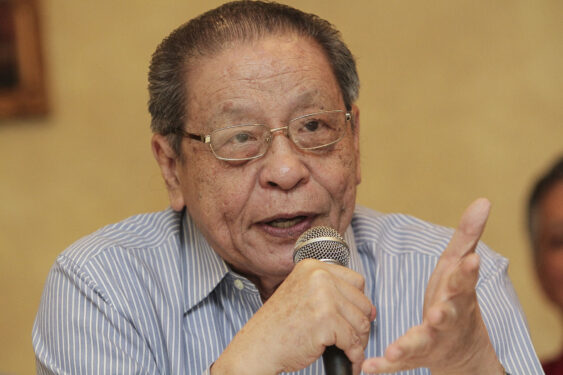 Apandi, the former AG during incarcerated former premier Datuk Seri Najib Razak's government, has made his demand publicly. He even named the amount of RM2.23 mil.
Dr Mahathir had asked: "Yet the compensation the government made is a secret. Why? I have reason to find out why because I do not think he deserves to be compensated at all."
Recall that during Dr Mahathir's stint as Malaysia's seventh prime minister (PM) in the previous Pakatan Harapan (PH) administration, he had terminated Apandi's service as the AG in June 2018 amid the 1MDB (1Malaysia Development Bhd) probe.
On Oct 13, 2020, Apandi filed a suit against Dr Mahathir and the government over his alleged unlawful termination as AG.
Eventually, Apandi and the government had on April 13, 2022 reached an amicable settlement over the lawsuit.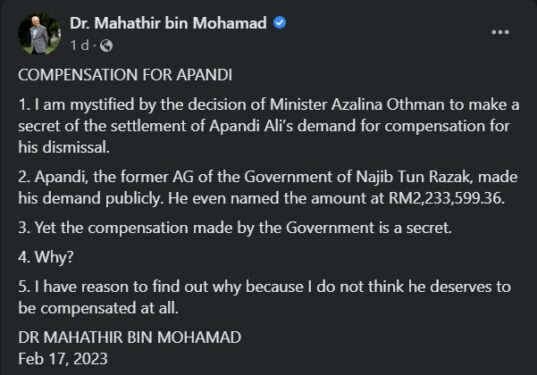 Dr Mahathir had all these while maintained that he made the right decision in sacking Apandi and that the matter was done according to procedure. He was shocked to read the news about the out-of-court settlement being made between the government and Apandi.
He went on to say that when news of the settlement broke, he was "not informed about the settlement even though I was a key witness".
Against such backdrop, Kit Siang deduced that "public interest requires the out-of-court settlement to be made public".
"The Cabinet should reverse the decision to keep the out-of-court settlement from the knowledge of the public as the government is acting on behalf of the public," opined the former Iskandar Puteri MP.
"If Apandi wants to institute legal action as a result of the publication of the out-of-court settlement, he should be free to do so." – Feb 19, 2023