PUBLIC Accounts Committee (PAC) chairman Datuk Mas Ermieyati Samsudin "is barking up the wrong tree" by telling retired DAP supremo Tan Sri Lim Kit Siang to ask the Dewan Rakyat speaker why the 2021 Auditor-General's Report Series 2 is not being debated in the august hall instead of directing the question at her.
This comes about as the Bersatu MP for Masjid Tanah hit out against the veteran lawmaker for his "shallow understanding" of parliamentary rules.
"As a seasoned parliamentarian, TS Lim should be aware of the special rights conferred to the PAC to examine the report," Mas Ermieyati pointed out in a statement. "Such a baseless statement shows that Lim disregards these rights and uses parliamentary debate as a political tool."
She further criticised the government's effort to table the audit report as "political rhetoric" by claiming that nothing would be achieved by the debate.
"Instead of questioning my credibility as the PAC chairman, it would be better for Lim to ask the speaker," asserted Mas Ermieyati.
"The PAC report (on the COVID-19 vaccines and ventilator procurement) is more transparent and complete because it carries statements from ministry chiefs that were involved in the procurement and management of the ministry's finances."
Yesterday (June 9), Kit Siang claimed that Mas Ermieyati has undermined her fitness to be the PAC chairman after the opposition bloc unanimously opposed the motion to examine the 2021 Auditor-General's Report earlier this week.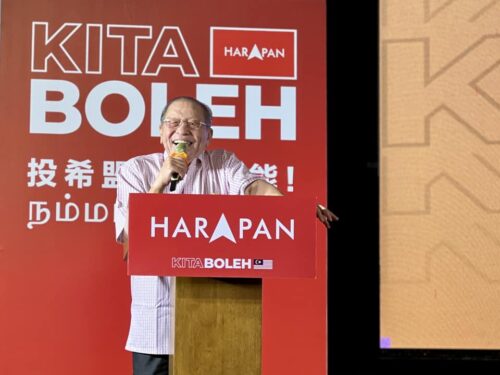 Kit Siang who was the country's longest serving Opposition leader then proposed a solution for Mas Ermieyati's deputy Wong Shu Qi (Kluang MP) to examine the 2021 and 2022 Auditor-General's accounts with Mas Ermieyati resuming her role as PAC chairperson later to examine the 2023 Auditor-General accounts.
If Mas Ermieyati had done a check on the Internet, Kit Siang said she would have found that it is not a rare occurrence for the Auditor-General's Report to be debated in other Parliaments.
"The reason why the Auditor-General's Report is straightaway referred to the PAC in Malaysia is because the government-of-the-day was not prepared to give time for a debate on the Auditor-General's report before referring it to the PAC for fuller study and investigation," he explained.
"Would Mas Ermieyati now admit that what she did in seconding the motion against the debate on the 2021 report of the Auditor-General and the ensuing boycott of the debate was especially wrong for her as PAC chairman?"
Although he is no longer in Parliament, Kit Siang said he would agree that there should be a standing order for the reports of the PAC to be debated in Parliament.
"This is likely to be achieved under Prime Minister Datuk Seri Anwar Ibrahim's unity government than under any other PN government," he suggested. "It will a test of Mas Ermieyati's tenure as PAC chairman to get such a parliamentary practice accepted in the parliamentary standing orders." – June 10, 2023