AS he gears up to meet Bersatu president Tan Sri Muhyiddin Yassin next week with the prospect of joining the Perikatan Nasional (PN) component party, former Health Minister Khairy Jamaluddin (KJ) has cast doubts about the sincerity of UMNO president Datuk Seri Ahmad Zahid Hamidi for sacked and suspended members to re-join the party.
"This is because we don't know why we were sacked and suspended or what action qualifies us to be fired and suspended, hence what are we appealing for?" he asked in the latest Keluar Sekejap Podcast programme with former UMNO information chief Shahril Hamdan.
Citing a similar sentiment expressed by Sembrong MP and former UMNO vice-president Datuk Seri Hishammuddin Hussein – the man responsible for bringing him into UMNO – KJ who was the former UMNO Youth chief has perhaps summed up his potential return to UMNO as "not interested if need to be like Lokman Adam".
For the record, UMNO has sacked its supreme council member Datuk Lokman Noor Adam from the party over disciplinary matters on Feb 7, 2020 but only for the party to reinstate his membership on Sept 30, 2021 following an appeal. Currently, Lokman is the party's communications director.
In May, eighth prime minister (PM) Muhyiddin who is also PN chairman was reported to have offered Khairy a "high post" in the Bersatu supreme council, a move hailed by PAS secretary-general Datuk Seri Takiyuddin Hassan as excellent for the PN coalition given KJ's formidable character and skills as part of UMNO's past leadership.
Interestingly, political observer Hanizah Hashim has suggested that KJ and Shahril should refrain from "hopping to other party temporarily till the outcome of the state polls are known".
"Seems like all (political) parties are struggling (in one way or another). If you want to start a new party, think first. Not easy in the current situation. The politics of the country is very disgusting," she penned in a recent Facebook post.
"During the Keluar Sekejap podcast episode at the IIUM (International Islamic University Malaysia), Shahril has mentioned his desire to join MUDA. I really hope he doesn't. The party has been problematic from the start as it was half-baked and half matured. Not well thought through and was a bad move.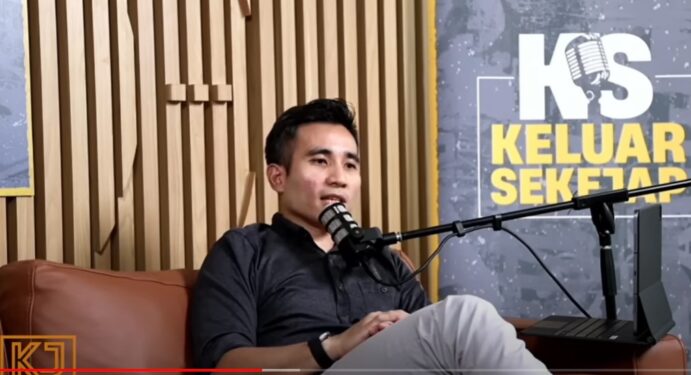 "Will SH (Shahril) make that party any better? No. MUDA isn't interested in doing anything except letting (its president) Syed Saddiq (Syed Abdul Rahman) be the poster boy. I wonder what happened to the tycoon's daughter Dian Lee? She was the worst poster girl ever."
As for KJ, Hanizah hoped that the son-in-law to Malaysia's fifth premier Tun Abdullah Ahmad Badawi "won't hop to PN either".
"That's not his style. If he jumped just for political expediency, he will be done for. He won't have a leg to stand on. Don't ride any party just to test voter loyalty. KJ needs to ride the storm and find his time," observed the former journalist with the New Straits Times.
"I would suggest he study how Emmanuel Macron (France president) made his move. It was at a time when France and the French were sick and tired of politicians with loose lips and loose zippers. He was young but had a stable marriage (his much older wife turned out to be an asset). He is articulate, well-spoken and not an embarrassment abroad."
Above all else, Hanizah paid tribute to the "new KJ" for being "humble, less of a firebrand and willing to admit his mistakes".
"That's unusual. Play your cards right, KJ. You can do it. I personally like what Shahril said in Keluar Sekejap that as he gets older, he wants to embrace his religion, Islam. That it would be good to incorporate Islamic values in his political life. Good for you, man! Both of you have my vote." – June 14, 2023