KHAIRY Jamaluddin (KJ) who is taking a break from politics has reiterated his call that Prime Minister (PM) Datuk Seri Anwar Ibrahim appoint a second finance minister if the premier is keen to keep his finance portfolio.
The former health minister first mooted the proposal on May 29 over his Keluar Sekejap podcast by stating that while Anwar was seen as a talented politician, this did not mean that the Pakatan Harapan (PH) chairman was capable of functioning as both PM and Finance Minister simultaneously.
In view of all his juggling, Khairy who was axed from UMNO in January for sabotaging the party's 15th General Election (GE15) observed that this has resulted in a bottleneck of files with the unity government under Anwar's charge being unable to make decisions quickly enough.
"From the conversations I have had with the treasury, many decisions and files have started piling up, and things are slow," revealed the former Rembau MP.
Fast forward to his latest podcast which he co-hosts with former UMNO information chief Shahril Hamdan (who has been suspended for six years for disciplinary matters) and featured Natural Resources, Environment and Climate Change Minister Nik Nazmi Nik Ahmad, Khairy reiterated:
"I gave a few proposals. Even if he (Anwar) didn't want to let go of the Finance Minister post, he should at least appoint a second finance minister. No matter how talented the person is, he cannot be the CEO and chief financial officer (CFO) at the same time. But if he wants to be, he has to have a second person".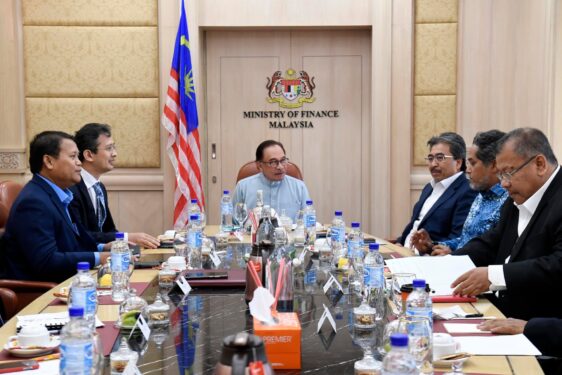 Interestingly, he was referring to a meeting with Anwar and UMNO vice president and former finance minister II Datuk Seri Johari Abdul Ghani on June 16 to gauge the unity government's ongoing efforts as well as to gather ideas and perspectives from various sectors regarding the nation's economic direction.
Delving further into the matter, Khairy contended that even previous PMs who held the finance portfolio had appointed a second minister.
Recall that former PMs who held the premiership and finance portfolios concurrently were Tun Dr Mahathir Mohamad, Tun Abdullah Ahmad Badawi and Datuk Seri Najib Razak. All three appointed a second finance minister.
To shed light into his view of Johari as a good bet as the second finance minister, Khairy has previously revealed that Johari had been offered the portfolio of natural resources, environment and climate change but that the UMNO vice-president had rejected the proposal.
"He (Johari) rejected it right before the announcement was made because he believed he would be more effective as a backbencher. Perhaps he wanted to be in line with his background in economics and finance," opined Khairy.
"Since he has been considered for appointment as a minister, I suggest that if the PM wants someone from the outside with a professional background as finance minister, Johari would be the right choice." – July 26, 2023