WHILE netizens are chastising the action of the Opposition block for staging a walk-out from the Dewan Rakyat yesterday (Sept 19) as a tactic to hide their own flaws, Putrajaya MP Datuk Dr Radzi Jidin whose ejection sparked the incident has described the entire episode as a "black day for the Malaysian Parliament".
The former education minister was given the marching order by speaker Tan Sri Johari Abdul as he refused to sit down after Prime Minister Datuk Seri Anwar Ibrahim chided him for laughing as he (Anwar) was explaining the DNAA (discharge not amounting to acquittal) granted to Deputy Prime Minister Datuk Seri Ahmad Zahid Hamidi.
Following this, Radzi has repeatedly insisted that Anwar should withdraw the accusation made against him but to no avail, thus prompting a shouting match which lasted more than 20 minutes during which Perikatan Nasional (PN) lawmakers demanded that Anwar retract his remark while Pakatan Harapan (PH) MPs defended their chairman.
Opposition leader and Datuk Seri Hamzah Zainudin (PN-Larut) then staged a walkout with several other MPs to protest the speaker's decision.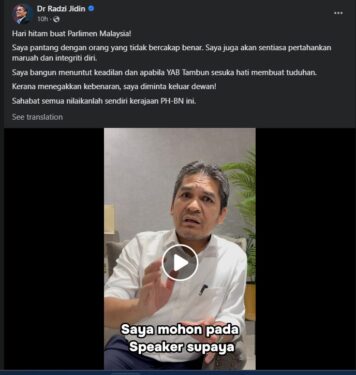 Elaborating on the incident, Radzi wanted Malaysians to see for themselves how PN MPs are facing various accusations without any evidence in the Dewan Rakyat.
"It is even impossible to request for the uncalled for statement to be withdrawn. If there is no justice for us, then what can the people out there expect?" he told a media conference in the Parliament lobby. Also present were Hamzah who is also the Bersatu secretary-general and Kubang Kerian MP and PAS deputy president Datuk Seri Tuan Ibrahim Tuan Man.
In his defence, Radzi described as "unreasonable" for Anwar to accuse him for "laughing" and "doing the same thing during the PN administration".
"My request is not difficult. I just wanted the Tambun MP (Anwar) to retract his statement. That's all because it involves accusations against me," explained the Bersatu vice-president. "This is a very straight forward matter. That all. Why do you need to defend something that is not right? Why do you want to twist and turn your answer?"
Following Radzi's ejection, opposition MPs left the august house as a sign of solidarity with the exception of Datuk Khlir Mohd Nor (PN-Ketereh) and Syed Saddiq Syed Abdul Rahman (MUDA-Muar) who had questions for the PM who was delivering his winding-up speech on the 12th Malaysian Plan (12MP) mid-term review.
Meanwhile, Opposition leader Hamzah explained that the action of the PN lawmakers leaving the Dewan Rakyat was also a protest against speaker Johari for injustice.
He said Johari should have acted based on the legislation and not behaving like a lawyer.
Hamzah also accused Anwar's act of "twisting" his earlier statement as evidence that a lie had taken place in the assembly, thus prompting him to rise and said that if the decision made by the speaker was not fair to the opposition MPs, then being in the Dewan Rakyat would mean admitting that the lie was true. – Sept 20, 2023
Pic credit: MalaysiaNow