POLITICIANS often consciously or unconsciously compromised their physical conditions for the exuberance of their struggle by brushing aside tell-tale signs of deterioration in their health or even hiding the truth from their supporters for reasons they know best.
Although it was not entirely shocking, news of deterioration in the health of PAS president – and that the Marang MP is currently hospitalised for treatment to an unknown illness – could be a portrayal of the intensity of the upcoming polls across six peninsular states slated for next month.
An iconic spiritual leader cherished for his religious knowledge in the eyes of PAS supporters, Hadi is touted as very much the driving force behind in Perikatan Nasional's (PN) election machinery as reflected by PAS having won 49 seats (contesting 70) in the recent 15th General Election (GE15) s opposed to Bersatu's mere 25 (contested 81).
As health conditions of a person know no boundaries, it is probably only appropriate for all political divides to unite to fulfil the wishes of Hadi's son and Batu Buruk state assemblyman Muhammad Khalil Abdul Hadi to pray for his father's recovery.
This is regardless of the septuagenarian (coincidentally both Hadi and Prime Minister Datuk Seri Anwar Ibrahim are 75) often likened to Manchester United – either you like the football club or you despise it.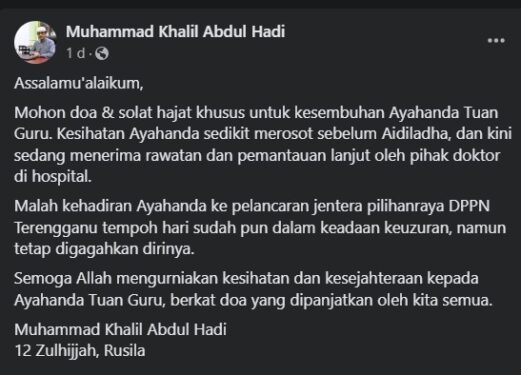 Citing Khalil, national news agency Bernama has reported that Hadi is currently warded at a hospital in Kuala Terengganu and that his condition is currently stable.
For the record, Khalil, 46, took to Facebook yesterday (July 1) morning to share that the health of his cleric father took a turn for the worse before Hari Raya Aidiladha on Thursday (July 29).
"Please pray for my father's recovery. He is currently receiving treatments and being monitored by doctors at the hospital," penned Khalil without disclosing Hadi's illness.
He nevertheless revealed that his father was already sick when he attended the launch of the Terengganu PAS Youth election machinery on June 27. "He had strengthened himself to attend the launch of the election machinery," noted the son who is likely to defend his state constituency in the forthcoming state election.
Hadi was last hospitalised at the National Heart Institute (IJN) for breathing difficulties in June 2021. Before that, he was warded at IJN twice in April 2020 after complaining of fatigue. – July 2, 2023