GREEK philosopher Heraclitus' famous quote of "change is the only constant" holds true in politics for no politician is indispensable.
Even PAS dropped a bombshell on the eve of Saturday's (Aug 12) six state elections that Kelantan Menteri Besar (MB) Datuk Ahmad Yakob would be dropped.
The incumbent MB took it in good strides knowing that it is the prerogative of the party to decide on his position, citing his health condition as the reason for being dropped.
Therefore, it is not surprising for rumour to be abound that Datuk Seri Amirudin Shari may not be picked as Selangor MB, according to sources cited by Free Malaysia Today (FMT).
One unknown source identified as a PKR leader had told the news portal that Amirudin's latest performance in the state election has shown that "he had failed to get the support of Malay voters".
However, the Sungai Tua state assemblyman's press secretary Jay Jay Denis has eventually rebutted the article as an attempt to "bypass the Sultan of Selangor and Prime Minister Datuk Seri Anwar Ibrahim who is also the Pakatan Harapan chairman."
Interestingly, the anonymous source also named PKR state assemblyman for Seri Setia Dr Fahmi Ngah as the man who will likely succeed Amirudin. FocusM has reached out to Amirudin for further comment but has yet to hear from him.
The swearing-in ceremony for Selangor's 17th MB is slated for this Saturday (Aug 19) with Anwar expected to present the candidate's name to Selangor ruler Sultan Sharafuddin Idris Shah who had undergone medical treatment in London today.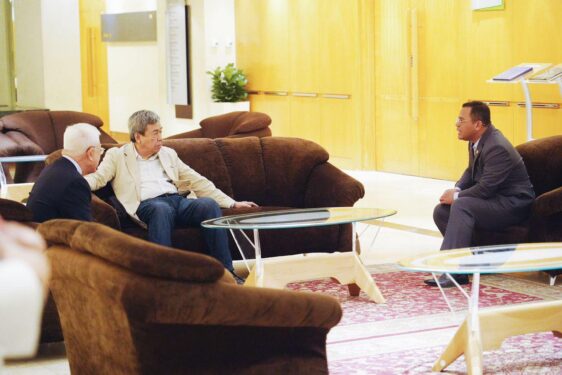 In the state election which concluded on Saturday, the Pakatan Harapan-Barisan Nasional (PH-BN) alliance only managed to garner 34 seats which is three seats short of winning a two-thirds majority.
On the contrary, Perikatan Nasional (PN) has made commendable inroads by winning 22 seats (Bersatu 12 and PAS 10).
Although Amirudin had retained his Sungai Tua seat, two other state constituencies in the Gombak parliamentary constituency, namely Hulu Kelang and Gombak Setia were won by his mentor-turned-nemesis Datuk Seri Mohamed Azmin Ali and the PN information chief's former political secretary Hilman Idham.

That Amirudin had become "disconnected from Selangorians" putting the state in great danger of falling into the hands of political quarters seeking to whip up the "green wave" in Selangor – as claimed by the FMT source – may well resonate with many residents in the state.
During his tenure as MB, a number of issues left unresolved had cropped up again during the run-up to the state polls.
Among others, FocusM has highlighted the issues such as the PJD Link controversy which had evolved from KIDEX, clearing of forest reserve land in Selangor, poor public amenities and illegal dumps, re-location of Seri Selangor Golf Club's clubhouse and management of stray animals.
To fend off the green wave, Anwar will have to ensure that the MB candidate he suggests to Sultan Sharafuddin is one who is always on the ground to listen to the grouses of the people (an ideal benchmark would be energetic Johor MB Datuk Onn Hafiz Ghazi).
Although the electorate in Chinese majority constituencies had voted overwhelmingly for PH because of the Anwar factor, there is no guarantee that PH will still enjoy the same level of support come the 16th General Election (GE16) which is slated for 2027 unless the concerns of Selangorians are addressed.
Whether Amirudin will be dropped or not, Selangorians can only wait for the official announcement after Anwar has sought the consent of Sultan Sharafuddin. – Aug 16, 2023