DAP lawmaker Lim Lip Eng has given Bersatu information chief Datuk Razali Idris and PAS 24 hours to publicly apologise and retract their claims on social media that "54,000 Chinese citizens are in the process of being granted citizenship" lest he would lodge a police report against them.
The two-term Kepong MP further described their statements as "slanderous, full of lies and undermining the country's sovereignty".
According to Lim who is a lawyer by profession, they violated, among others, Sections 499, 504, 505 (b) and 505 (c) of the Penal Code; Section 4 of the Sedition Act 1948; Section 233 (1) of the Communications and Multimedia Act 1998 and Section 4(1) and 8A of the Printing and Publishing Act 1984.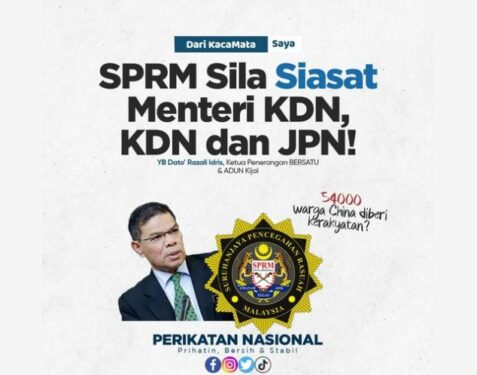 "Their claim is not supported by any kind of evidence," the Kuala Lumpur DAP secretary pointed out in a statement. "The government has already denied the allegation the first time it appeared in cyberspace at the beginning of this month."
Lim's reaction came about after Economy Minister Rafizi Ramli said that he would discuss with Home Minister Datuk Seri Saifuddin Nasution Ismail over the likelihood of lodging a police report against PAS for spreading the malicious perception on its social media platform.
The Pandan MP further described the social media posting over the matter as "a clear criminal defamation" and "a lie".
"PAS needs to be held accountable if they continue to lie like this," added Rafizi who is also the PKR deputy president in Facebook post. – Aug 30, 2023