UMNO supreme council member Datuk Lokman Noor Adam has defended his so-called unruly behavior at the recent Wacana Sinar political forum as partly due to favourtism and the failure of the event's moderator to grant him ample time to present his argument and to counter "slander and badmouthing" of the unity government by opposition panelists.
Taking a pot shot at television host Harleena Pahlavy for "not acting fairly" as the moderator, the media secretariat head of the unity government claimed that she hardly stopped fellow panelist Badrul Hisham Shaharin a.k.a. Che'gubard when he interjected nor when the Bersstu imformation committee member brought up personal matters at will.
"It could be that the moderator, too, is angry with the unity government … maybe she has an excuse which is not a problem but she made a mistake at the start of the forum by admitting that that she always watched Papagomo (former UMNO activist Wan Muhammad Azri Wan Deris) and Che'gubard," chided Lokman in a recent video clip.
For context, the forum organised by Malay language news portal Sinar Harian on July 4 has brought together four panelists who included Perak PKR vice-chairman Muhamad Arafat Varisai Mahamad and Muafakat Nasional's (MN) supreme council member Datuk Tun Faisal Ismail Aziz (who was former Putrajaya UMNO deputy chief) to discuss the topic " State Polls: The Second Time Bomb?"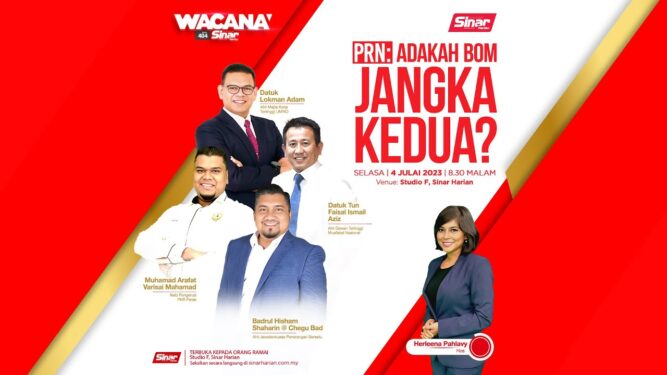 In addressing accusations that he had reacted "emotionally" as both him and Che'gubard were at one stage engaged in a 'war of words', Lokman noted the need "to adapt ourselves to the situation when you're with fellow panelists who are not polite in nature".
"If you talk to an educated individual, we can treat him with respect but if you know that the individual clearly has intention to attack us, then we've to launch an attack first … this will catch him off-guard," he justified.
"He is wrong to think that by his provocation, we would be shaky or lose our temper and leave the event. Instead, would use every inch, every second of the time to break his argument … for someone who been in politics for 35 years, this is no longer a cordial forum but rather a political debate for it entails panelists from UMNO, PH, Muafakat Nasional (MN) and PN."
https://www.youtube.com/watch?v=S5MVq8cgAGg
Elsewhere, Lokman also criticised the event organiser for failure to provide a fair stage for debate as well as in the area of crowd handling "especially with Che'gubard's supporters from Negri Sembilan being very disruptive and showing tendency to intimidate us without any intervention from the floor manager".
Meanwhile, Che'gubard has earlier demanded a public apology from Lokman over the following matters:
His rudeness by accusing Sinar Harian and the Malaysian media of having no integrity by reporting and publishing fake surveys on the basis of who is the paymaster;
Withdrawing and apologising for his slander that PAS' candidates who contested in the 15th General Election (GE15) were made to swear to divorce their wives as part of their loyalty pledge to the party;
Withdraw and apologise to all young Malaysians for accusing them of not having dignity for they only vote based on monetary handouts.
"For 'name calling' which insulted my family and my late father, you don't need to apologise because I understand your cockiness and arrogance which also reflects the cockiness and arrogance of the unity government," added Che'gubard. – July 8, 2023