DEPUTY Chief Minister II of Penang Prof P. Ramasamy has lost relevance in Malaysian politics.
There have been so many complaints on the sorry state of affairs of the Indian community in the state but instead of focusing on local issues, Ramasamy prefers to harp on MIC leaders on trivial political issues.
Defeated in DAP party elections several times and failing to make cut for the CEC (central executive committee) seats, Ramasamy was re-appointed into Penang DAP as co-opted member. This clearly shows he hardly has any support among party members and lost his political direction.
The welfare and well-being of the community was hardly given serious attention by Ramasamy. He should delve into and correct all wrongs done by his party in managing the Indian affairs in the party and state.
He loves to mock parties like MIC, UMNO and Gerakan. Ramasamy has to look into his own political backyard first instead of poking his nose into other party affairs.
Don't try to score points by using unsavoury language to put MIC down.
Don't make MIC scapegoat
The Indian politician in DAP is unable to use his strength to bolster his reputation but would always depend on the Chinese community vote bank for his own political survival. He tries to promote himself as the 'champion" of the Indian community by attacking MIC to please his political masters.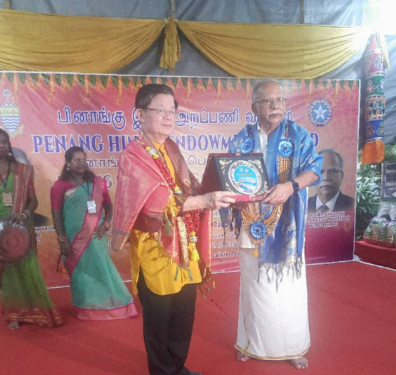 Ramasamy in the past has made serious allegations on MIC on several occasions that the party was bankrupt of virtue and was in the verge of dying a natural death.
Can an Indian become the secretary-general of the DAP or Chief Minister of Penang. Aren't Indians especially Ramasamy, subservient to the towykays in the DAP?
Over the last 66 years or so, so much has been written and spoken about the sad and miserable plight of the Indian community in Malaysia.
It is evident that Ramasamy has also failed tragically to address the problems of the Indian community.
Can Ramasamy explain why the Indian community in Penang can't afford to buy affordable homes on Penang Island? Where is the Tamil Secondary school in Bagan which Ramasamy promised?
What is Ramasamy doing about the establishment of a replacement school for Ladang Badenoch Tamil school in Penang? Is it just another half-hearted initiative?
What is the strategic plan of DAP to change the dire situation of Indians in the country? In actual fact, Ramasamy should fight his own battle and make MIC the scapegoat.
Don't belittle others
DAP leader Ramasamy should not be making such statements in this new phase of Malaysia's political landscape where DAP, UMNO and MIC are part of the unity government.
More than this, the Penang DAP deputy Chairman has also scoffed at Gerakan's aspirations to make a comeback in Penang.
On the same note, the Penang's Deputy Chief Minister has also expressed disappointment with Prime Minister Anwar Ibrahim's appointments pointing to a lack of representation from leaders of the ethnic Indian community.
He also questioned Anwar for awarding Cabinet positions to those who lost in the 15th General Election (GE15).
In the first place, Ramasamy must mind his own business and not get involved in the internal affairs of other parties other than his own party DAP.
Amid allegations of criminal breach of trust in the Penang Hindu Endowment Board (PHEB) Ramasamy is actually trying to remain relevant by slamming MIC, Gerakan and UMNO.
Ramasamy who has been Penang's Deputy Chief Minister II since 2008 has caused friction and dissatisfaction among Penang Indians over the issues of the Hindu Endowment Board (HEB). – Jan 30, 2023
Now a political analyst, M. Vivekananthan has served the government of Malaysia at various ministries, agencies for almost 30 years. He was previously a private secretary to ministers and deputy ministers.
The views expressed are solely of the author and do not necessarily reflect those of Focus Malaysia.