AS its secretary-general Datuk Seri Hamzah Zainuddin expressed regret over the Pakatan Harapan (PH)-Barisan Nasional (BN) strategy of using the Malaysian Anti-Corruption Commission (MACC) "to kill the credibility" of Bersatu and the Perikatan Nasional (PN) coalition, the party's grassroots are rooting for an all-round probe into the accounts of political parties in the unity government as well.
To ensure that the MACC's investigation is not lopsided or seen targeted at opposition political parties, Terengganu Bersatu chairman Datuk Razali Idris said similar action should be carried out across the board to demonstrate that the anti-graft agency is transparent in its investigation.
"We have cooperated with MACC and submitted necessary documents for the investigation which was conducted two weeks ago," he told the Sinar Daily news portal. "Bersatu is open and ready to give cooperation for further investigation. We only seek transparency in this investigation."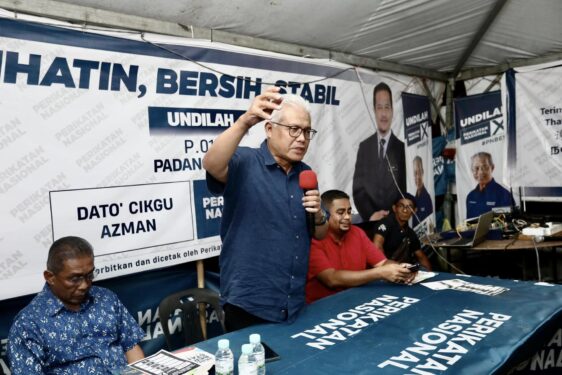 MACC chief commissioner Tan Sri Azam had earlier stated that Bersatu's accounts were being investigated under the MACC Act 2009 and the Anti-Money Laundering, Anti-Terrorism Financing and Proceeds of Unlawful Activities Act.
Although he confirmed that the accounts were frozen a fortnight ago, he denied that the current investigation is linked to the COVID-19 stimulus package funds.
Bersatu which is helmed by former prime minister Tan Sri Muhyiddin Yassin has been linked to the roll-out of several economic stimulus packages worth some RM600 bil to assist Malaysians during the COVID-19 pandemic.
However, MACC which opened investigation papers into the alleged misappropriation of the stimulus packages funds in December last year narrowed its probe to focus on RM92.5 bil after finding that only this amount entailed government funds.
Melaka Bersatu head Dr Mohd Yadzil Yaakop noted that "freezing of account doesn't necessarily mean that Bersatu is guilty of any wrongdoing" but only part of the investigation process and procedure.
To recap, former finance minister and current International Trade and Industry (MITI) minister Tengku Datuk Seri Zafrul Tengku Abdul Aziz has previously pointed out that there were no red flags on the alleged misappropriation of funds from several economic stimulus packages since 2020.
"However, we should not block anything yet because no one has been found guilty and the investigation is still ongoing," he was quoted as saying by Sinar Daily. "Maybe there were other elements in play like revenge and others."
Nevertheless, the Pahang Bersatu bank account is still active with all activities and operations of the party at the division level on-going as usual, according to its deputy chief Mohd Yazid Mohd Yunus.
"I can only speak for Pahang as I'm not sure of the situation in other states," he added. – Feb 2, 2023