THERE is little hope the COVID-19 pandemic can get defeated in Malaysia unless we get undocumented migrant workers to get tested as well.
"We have three categories of people in Malaysia: which are locals, documented migrant workers and undocumented foreign workers.
"While there are about 1.5 million documents migrant workers here, the undocumented ones range between three to four million. And they live among us, both locals and legal workers.
"So, if you don't test them, from a public health perspective, we won't make much progress in defeating COVID-19," Klang MP Charles Santiago told FocusM.
On Tuesday, Prime Minister Tan Sri Muhyiddin Yassin announced that the Yang di-Pertuan Agong had consented to an Emergency proclamation in a move to combat the pandemic.
The Pagoh MP said that the Government will use Emergency laws to tackle the nation's illegal immigrants' problem, adding he will take stern action against them.
Touching on the matter, Santiago said the only way to get illegal immigrants to voluntarily come for COVID-19 testing is by offering temporary amnesty, both to the worker and their employer.
"We must understand that employers who are found to have employed illegal immigrants will be slapped with a RM10,000 fine.
"So obviously, no employer is going to come forward. So, the only way now is to offer a six-months amnesty to both parties. No fines, no punishment. Just get undocumented workers tested and if they are found to have contracted COVID-19, give them proper medical treatment," he said, adding that refugees should be tested too.
On the documented migrant workers, the DAP leader said that the Government is making little progress in testing them.
"As of two weeks ago, they announced that 8% of the 1.5 million documented migrant workers got tested.
"Given that figure, I think we still have a long way to go," Santiago opined.
People suffering due to Gov't's failures
Echoing Santiago's sentiments, UNI-Malaysia Labour Centre (UNI-MLC) told FocusM that the Government needs to be diplomatic in its approach when dealing with undocumented migrant workers instead of being heavy-handed.
"Just give them temporary amnesty and get them tested. Rope in the help of High Commissions and Embassies on the matter.
"For now, the Government is doing everything on an ad hoc basis. Just come up with a comprehensive plan," said its president Datuk Mohamed Shafie BP Mammal.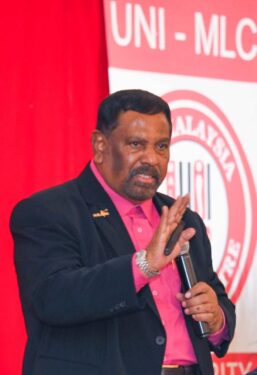 Training his guns against the Government, he said that undocumented migrant workers problem is not something now and has been an issue for decades.
"What were the authorities doing all this while? If you're going to go heavy-handed on illegal migrant workers now, they will only run away, carrying COVID-19 with them," Shafie added.
On that note, the veteran unionist urged the Government to be truthful to the people and admit that it had made mistakes in the past, which had caused the virus cases to rise.
"They should have closed our borders when the first cases were detected. Now because the Government mishandled the situation, the people are suffering.
"While the Health Ministry is doing its best, the National Security Council (MSC) lacked focus, with politicking being their main agenda.
"Now with an Emergency on our heads, people are confused, angry and under a lot of stress. Only now things are getting a little better economically and now we have to deal with an Emergency," Shafie remarked. – Jan 14, 2021.