THE age-old adage "the best way to a man's heart is through his stomach" holds through as Domestic Trade and Living Costs (KPDN) Minister Datuk Seri Salahuddin Ayub has brought Prime Minister Datuk Seri Anwar Ibrahim's Malaysia Madani (Civil Malaysia) concept to a whole new level – gastronomically speaking.
Amid an escalation of living cost with inflation causing a spike in basic food prices, the Menu Rahmah initiative will be a welcome to Malaysians in the B40 group – and even those in the M40 group – who are struggling with price hike of a wide-ranging necessities.
"At first, KPDN only suggested items in the Menu Rahmah to consist of rice + chicken/fish + vegetables. But it turns out that the traders are more creative by offering a variety of food. Ready to be offered at RM5 including a drink!" boasted the Pulai MP on his Facebook.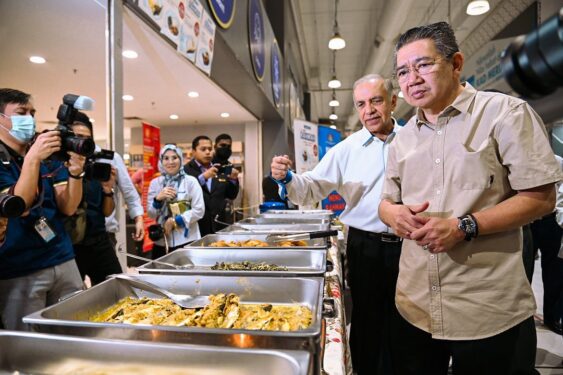 "As many as 15,000 restaurants nationwide are welcoming our Menu Rahmah initiative. Expect more restaurants to be part of the Menu Rahmah's initiative."
Earlier, Salahuddin said the RM5 price tag is considered reasonable after having taken into account the price of raw materials.
"I also understand that traders have to sacrifice their profit with that price to help the needy," he told reporters after launching the Menu Rahmah at the Mydin Wholeaale Hypermarket in Subang Jaya yesterday (Jan 31).
"For now, I hope that this group (B40) will be able to buy food and no longer starve because they cannot afford to buy food at restaurants."
Whatever the case is, it is hoped that the implementation is not a "one off" or done half-heartedly but can be carried out consistently on a daily basis to help the target group, especially those who are extremely poor.
As Salahuddin has rightly pointed out, traders, too, must be genuine in their intention to make the initiative a success as implementation of the project hinges not only on the government but their goodwill to help the low-income group.
For now, the Amanah deputy president and Johor Pakatan Harapan (PH) state chairman is satisfied with the quantity of food provided even though the price was set at RM5.
"What makes me happy is that the traders don't compromise and give reasonable meals such as the size of the chicken and so on," he observed. "For the benefit of tax deductions, we will try to discuss and help the traders as long as they can succeed in this initiative."
Hopefully, the traders' fraternity will not disappoint Salahuddin by ensuring that the entire initiative is not a gimmick or publicity stunt but one that is here to stay. – Feb 1, 2023