FIRST and foremost, it is hoped that Konishi-san – the moniker for Tan Sri Dr Fumihiko Konishi – will accept with an open mind what Malaysian sushi fans think of Sushi King, the country's largest Japanese sushi restaurant chain that first made its mark in Malaysia at The Mall Kuala Lumpur (now Sunway Putra Mall) in 1995.
At the end of the day, sushi fans whose ideas are presented here spoke from their heart with no ill-intent to run down the reputation of Malaysia's pioneering fast-food sushi chain but more towards propelling Sushi King to draw bigger crowd, thus winning back the hearts of Malaysian foodies.
For context, many foodies have reacted – in a surprisingly negative manner – to an article entitled "Sushi King's Founder Had on 9 Months to Succeed; Here's the Restaurant's Lesser-Known Tale" published by news portal Vulcan Post.
For the uninitiated, Sushi King is the brainchild of Konishi who is the founder of Texchem Resources Bhd, a Japanese multinational (MNC) which specialises in polymer engineering and the food & beverage (F&B) industry.
Foodie Ka Lon expressed surprise that Malays are still patronising Sushi King when many Chinese "have long abandoned this brand" due to its quality decline while Hafiz Harun wondered if this could be true given that Sushi King is one of the few halal sushi joints around.
"A lot of (other sushi) restaurants still have sake (Japanese rice wine)/mirin (cooking rice wine)/non-halal sushi rice vinegar," shared Hafiz.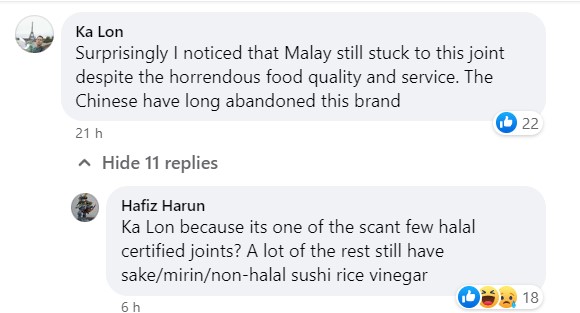 Ybrik Goh Liang Shin who claimed to have worked for the Texchem group opined that although the food does not live up to expectations, the restaurant chain is "making money due to the halal status and their target market".
"Overall, you can't compare a cheap sushi to an expensive premium sushi. Of course, the cheap sushi sucks, and of course the cheap sushi ends up being sold in a large volume," contended Goh.
"It's something like [how McDonald's does not have the best burger] and [KFC does not have the best fried chicken] but as a restaurant chain they are in fact making money."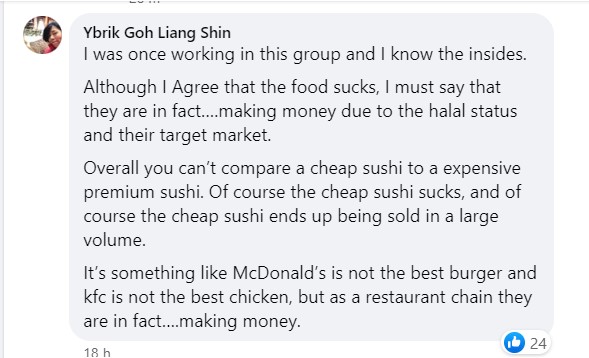 Of all the conveyor belt sushi outlets such as Zanmai, Tei, Sakae and Mentai, Lee Chew claimed that he has been ranking "(Sushi) King at the bottom every year (for the) past eight years".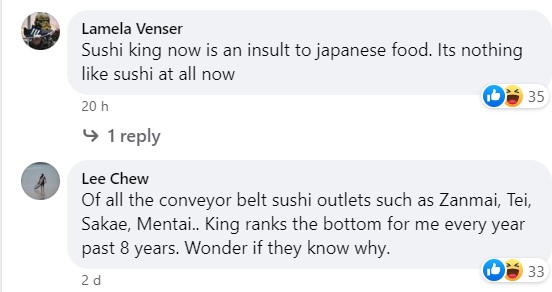 "(I've) blacklisted Sushi King many years ago. Quality is much worse than local chains and price isn't exactly cheap either. The food is an insult to Japanese food as Japanese chefs are usually perfectionists, so it comes as a surprise that the owner is Japanese." commented Melvin Goh.

Chia Hann Chyuan observed that food quality at Sushi King has deteriorated with choices of sushi having reduced over the last decade.
"It is just a franchise restaurant and lost its authenticity because of allowing their food to go through a processing line instead of actual sushi chefs making the sushi on the spot," noted the foodie. "If you are willing to pay slightly more, there are many authentic Japanese restaurants that serve better sushi, ramen (Japanese noodles) and tonkotsu (Japanese broth made from pork marrow) than Sushi King.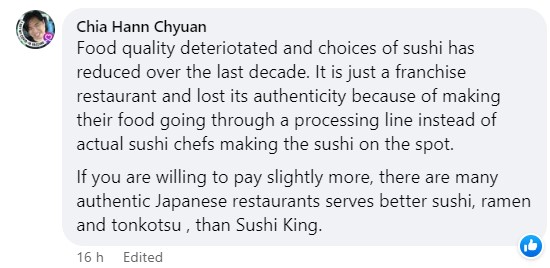 Interestingly, even the Malay-Muslim foodies are sceptical of Sushi King's quality these days.
"I would agree with all the comments about the bad quality, taste, service, etc. It's not the same like 10 years ago," reckoned Mohd Hafiz Ramly.
"I notice this happens when a big Japanese MNC called Tex*** took over the food chain. Sushi King no longer my favourite Sushi chain for there are lots more choices nowadays and (they) server better."

Shauna Salochin Laai concurred saying that "price is on the upside but the (sushi) size is ever shrinking" while Siti Aishah Mohamad gave thumbs down for Sushi King's food quality and customer service.

Foodie Kok Leong Lee summed up best when he equated Sushi King as "Nokia of Malaysian sushi industry". – May 8, 2023