WHILE prime retail malls in prominent location will remain resilient, Maybank IB Research is cautious over prospect for neighbourhood malls and multi-tenanted offices in the Klang Valley.
This follows the likelihood of them be at higher risk of being negatively impacted by the oversupply of retail and office space.
"(Nevertheless, the) industrial segment is also expected to remain resilient given long-term tenancies with rental reversion outlook remains strong within the positive single-digit," projected analyst Nur Farah Syifaa in an update on the Malaysian real estate investment trusts' (M-REITs) sector.
Reiterating its "neutral" view on M-REITs in 2023, Maybank IB Research expects fewer sizeable asset acquisitions in 2023 involving retail malls and industrial properties compared to 2022.
"Pavilion REIT and CapitaLand Malaysia Trust have proposed to acquire Pavilion Bukit Jalil and Queensbay Mall towards end-2022 at purchase prices of RM2.2 bil and RM990.5 mil respectively to be funded via placement of new REIT units and borrowings," noted the research house.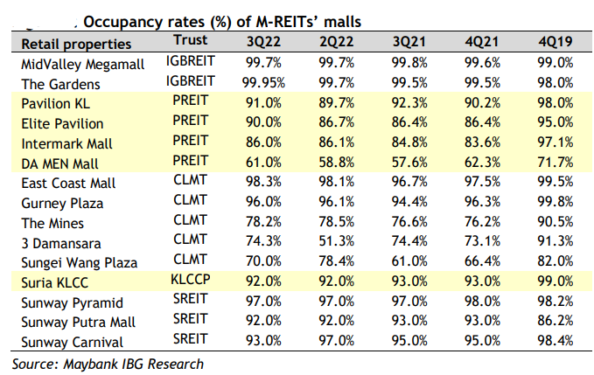 "Current gearing level for (REITs under) our coverage mostly stands between 0.13 times-0.42 times, thus providing debt headroom for new acquisitions."
Another challenge for M-REITs could come from an escalation in financing costs stemming from the current higher interest rate environment.
"Most M-REITs under our coverage are still mainly funded by floating rate loans. As at 3Q 2022, the sector had an exposure to floating rate debt of 51% (RM8 bil out of total debt of RM15.57 bil) while the MREIT's average interest costs in CY2022 had ranged between 2.8% and 4.3%," observed Maybank IB Research.
"Our economics team is anticipating another +25 basis points (bps) hike in the OPR (overnight policy rate) in 1Q 2023 to 3% which translates into higher financing costs for selected borrowings."
The sector currently offers decent CY2023E net DPU (distribution per unit) yields of 5.2%-8.1%, primarily led by YTL REIT at 8.1%.
Meanwhile, the sector's trailing net yield spread against the 10-year Malaysian Government Securities (MGS) yield is at the trailing 12-month average of 208bps.
"Our fixed income research team expects 10Y MGS yield to fall toward 3.75% by 1H 2023. This translates into CY2023 net yield spread of 279bps," added Maybank IB Research.
Its top "buy" is AXIS REIT followed by Pavilion REIT, Sentral REIT and YTLREIT. – Jan 16, 2023