OVER 150 respondents from the Malaysian retail industry have shared their concerns over the implementation of the Generation End Game (GEG) policy which is intended to ban the use and sale of cigarettes and vape products for those born after 2007.
The Tobacco and Smoking Control Bill has been referred to a Parliamentary Special Select Committee (PSSC) after the Dewan Rakyat voted to refer the bill through a voice vote on Aug 2. Health Minister Khairy Jamaluddin had tabled the bill for its second reading and debate the previous day.
This feedback which comprised views from major retail chain operators, petromarts and sundry shops in Malaysia comes from a poll conducted by a local thin tank-cum policy institute Datametrics Research and Information Sdn Bhd (DARE) which is committed to performing research and advocacy for key sectors that are critical to the Malaysian economy.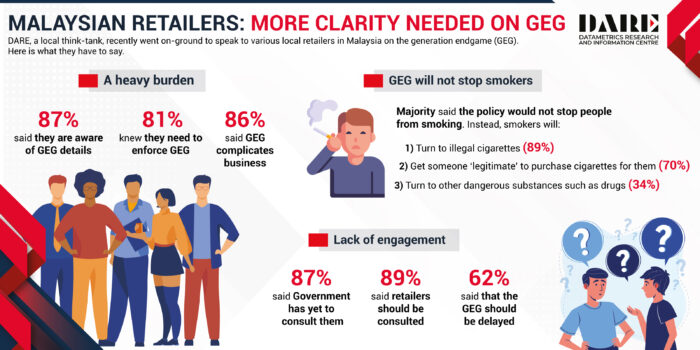 Based on the findings, a majority of those surveyed claimed that they were simply ill-informed and unprepared for the implementation of the policy.
Most were aware of the details of the GEG (87%) and understood the steps that they will have to take to ensure implementation is carried out (73%).
A majority (81%) realised that the responsibility to enforce the GEG will fall on them with 79% aware that they will need to check the identity cards (IDs) of their customers. Given this backdrop, 86% said that the policy will add complexity to their business.
The poll also revealed that retailers have not been briefed nor consulted on the GEG and its implementation process and procedures.
Some 87% of the respondents raised concerns that the Government has yet to explain the details of the GEG to them or their management with an overwhelming majority (89%) saying that they should be consulted prior to any implementation of the policy.
Above all else, the respondents also believe that the policy will not stop people from smoking.
"Our study also showed that instead of quitting, retailers believe that smokers within the GEG bracket will either resort to illegal cigarettes (89%), get someone 'legitimate' to purchase cigarettes for them (70%), or more worryingly turn to other dangerous substances such as drugs (34%)," Pankaj Kumar, managing director of DARE pointed out.
"This clearly shows that the GEG's intent and purpose will indeed be lost and defeated as it does more harm than good to the society and industry. With this understanding, 62% of the respondents shared that the GEG policy should be delayed."
Elsewhere, slightly more than half (54%) of those surveyed were aware that the policy is currently being reviewed by the PSSC.
"DARE hopes that the committee members comprising lawmakers from both sides of the aisle, take the proactive step to listen and engage with the various stakeholders that will be impacted by the policy," opined Pankaj.
"Only then, can the PSSC and the Government take a proactive and informed decision on the right way forward as a rushed policy will have dire consequences for Malaysia in the future." – Sept 16, 2022
Main photo credit: Getty Images