KCI Metro Link Sdn Bhd, a Malaysian/South Korean joint venture company, has initiated a proposal to cultivate 15,000 acres of oil palm plantation and eventually facilitate palm oil export business in northern Sri Lanka.
This move was mooted and initiated by KCI Metro Link's president Dr Parimalam Micheal to Sri Lanka's Plantation & Industries Minister Dr Ramesh Pathirana.
On March 7, Parimalam received a letter of commitment and consideration in Kuala Lumpur from the ministry's coordinating secretary Wijayasundara Mudiyanselage in the presence of Sri Lanka's high commissioner-cum- trade commissioner Sumangala Dias.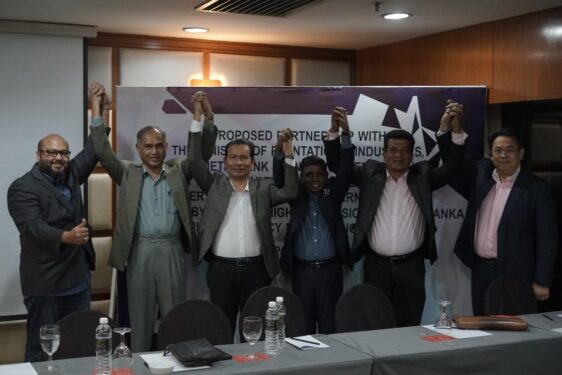 This KCI Metro Link-driven initiative has been carried to meet the request of Sri Lanka's president Ranil Wickremesinghe who needs to advise the World Bank on a humanitarian loan scheme to support this venture while looking into "the possibility of tapping the buy-back contract of palm oil-related products from this cultivation to the Indian market".
The World Bank's involvement through subsides will bring about a positive impact in the areas of employment, infrastructure and livelihood of Sri Lankans in the long run.
Contaminants of water canals and environment impact caused by discharge smokes from the operating mills will also be reduced to the lowest level alongside the cultivation of oil palm plantation by leveraging the latest technology from Malaysia, South Korea and Japan.
Towards this end, the Sri Lanka Plantation and Industries Ministry will be conducting a technical presentation to Wickremesinghe on the project's schedule while available resources from the World Bank's humanitarian loan scheme for the cultivation and commissioning of the oil palm crop is poised to provide the basic needs to the targeted group of Sri Lankans.
KCI Metro Link Sdn Bhd is an experienced innovator with proven ability in the magnetic levelation rail system that has benefitted transport viability in areas that the system was implemented.
It does not use oil nor electricity but magnetism to operate the smooth flow of transportation which reflects cleaner emission to the environment. KCI Metro Link is helmed and managed by Parimalam and his counterparts from South Korea.
"This collaboration between Sri Lanka and KCI Metro Link will foster a unique working relationship that would envisage a growing and positive trend for the country to come out of its economic woes while ensuring the betterment and positive impact and investments for Sri Lankans," Parimalam pointed out. – March 13, 2023