DESPITE her no longer being the Permatang Pauh MP following her 15th general election (GE15) defeat, Nurul Izzah Anwar continues to touch people's heart by stepping up to help those in need of assistance.
The former MP recently shared a post on Facebook detailing how she had teamed up with Machang Bubok assemblyman Lee Khai Loon to purchase and donate new motorbikes to a number of residents of Flat Tuna in Seberang Jaya who had lost their motorbikes in a fire.
"I received a message from a Seberang Jaya resident asking for help a few days ago. He told me 15 residents of Flat Tuna in Seberang Jaya are in despair after losing their motorbikes in a fire," Nurul Izzah wrote.
"He also said those motorbikes were the only mode of transportation for the residents to go to work, send their children to school and bring family members who have taken ill to the hospital."
Nurul Izzah said the people who were affected were those from low-income families and were as such struggling to afford new motorbikes.
"Yes, I am no longer the people's representative for Permatang Pauh, but many residents came to me for help. They had also met with their local representatives but they came to me for help because they are still awaiting a solution," she added.
Teaming up with Lee, Nurul Izzah was able to collect RM30,000 in donations to help ease the people's burden, and in the end the duo had gone on to purchase 15 Modenas Kriss MR3 motorbikes.
"Originally, the price of the motorbike was RM4,000 each but we managed to purchase these motorbikes at RM3,500 each after negotiating. The shop owner is very kind and caring – he gave us a discount after finding out about our joint effort to help low-income families in Seberang Jaya," she wrote.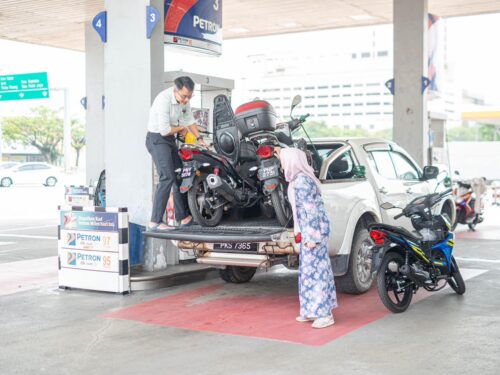 She shared that she had also managed to settle issues relating to motorbike licenses, road tax, and insurance, and had even fill the motorbikes with a full tank of petrol.
"Hopefully this token will help [the residents] earn and income and continue on with their lives. I realise that I am no longer the Permatang Pauh MP but Permatang Pauh will always be in my heart forever," she added.
This had earned her praise from netizens who mostly thanked her for her fast action to help the residents of the flat in their time of need.
Zulhafidz Yahaya said:

(Keep up the good work, YB. Although you are no longer Permatang Pauh MP the people there still seek you out and this means that their value of trust is still with you and not just mere sentiments)
Abie Ruslan:

(People in Seberang Jaya see Nurul Izzah around all the time and this is why they are more comfortable with her. Sometimes I don't understand how she could've lost)
Yasmin Arbee:

(Alhamdullilah Nurul Izzah. Although you are no longer Permatang Pauh MP you still lend a hand [to those in need]. Well done, may Allah SWT continue to repay your kindness. The strangest thing is, where is YB Seberang Jaya and the new Permatang Pauh MP…both are from Perikatan Nasional. May the people there think about this)
Zuelida Abdullah:

(When the people there need help, they find YB Nurul Izzah…but when it's time for them to cast their votes, they vote for someone else. How shameless. Now that somebody has extended their hand in your time of need, don't bite the hand that feeds you now that you are contented. If it were me, I would've told you to just go home and pray and be patient and wait until help comes)
Similarly, Reformasi Rakyat said:

(When it's time to cast your votes [you pick those who offered you] RM300 and RM400 but when you're in need of help you go to the person you rejected during election. Why didn't you seek help from the YB who gave you RM300) – Feb 27, 2023
Main pic credit: Facebook/Nurul Izzah Anwar