SOME emotionally rattled netizens who stood in unison with the GrabFood delivery rider who had his account "temporary suspended" following a recent argument with two Singaporeans who were buying RON95 fuel at a petrol station in Johor have apparently uninstalled their Grab application as a mark of protest after the incident went viral on Wednesday (June 21).
Their spontaneous reaction was surely no match to Grab's 'side of the story' which came 24 hours later on Thursday (June 22) evening.
The e-hailing service provider has confirmed re-activating the rider with the TikTok username @matkibot following "a comprehensive probe in accordance with SOP (standard operating procedure)".
"We wish to clarify that he wasn't banned but only temporarily suspended," explained a WhatsApp screenshot purportedly by Grab's customer service unit.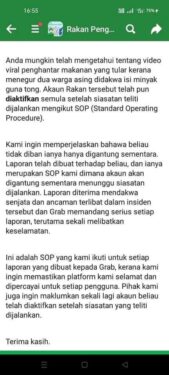 "There was a report lodged against him whereby we would temporarily suspend his account pending investigation. The report received claimed that weapons and threats were made in the incident whereby Grab seriously looked in every report, especially when safety is concerned."
For context, the 44-year-old rider had lodged a police report and contacted Grab's customer service to report on the incident. He was informed that the e-hailing service provider would reach out to him within 24 hours.
However, the rider said his account on the Grab application was then suspended from 6pm on Wednesday (June 21) with Grab informing him that there was a report lodged against him.
"The report, among others, claimed that I took out a screwdriver to fight … (however) there is a closed-circuit television camera (CCTV) for them to verify the accusation," he said in the post which has been deleted since.
Below are feedback on the Meanwhile in Malaysia Facebook page from netizens who vented their anger at Grab for what they deemed as having committed injustice on the Grab rider: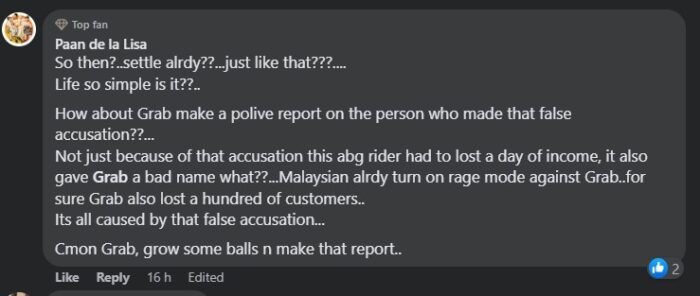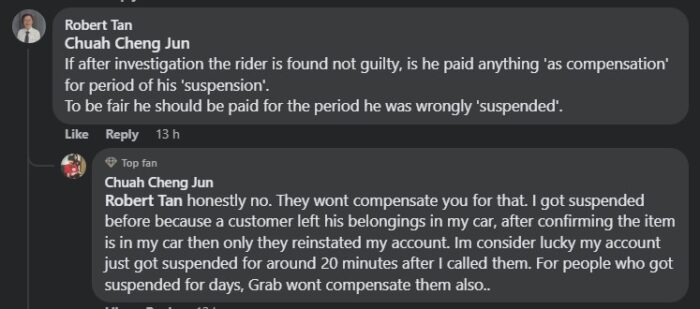 Main pic credit: SAYS