NETIZENS on Twittersphere are venting out their frustrations that high-end electric car marque like Tesla is accorded tax and duties exemption, thus making rich Malaysians, richer.
On the other hand, fuel-run affordable car in the likes of Perodua Axia is heavily tax, thus burdening the poorer sections of the population.
Furthermore, some are claiming that environmental issues are quite prominent with electric vehicles (EVs). Their batteries will add to the existing problems related to environmental issues once their life cycle is over.
According to researchers from Universiti Malaya, there are a multitude of challenges for EV's in Malaysia. One of the biggest factors in the lack of adoption is the high costs. Furthermore, the lack of charging infrastructure and guidelines is hindering its growth.
However, they did suggest that one way of making it popular in Malaysia is to offer a tax-free initiative. Unfortunately, this is not sitting well among the less affluent Malaysians.
"Rich EV buyers are paying no tax for the pollution they cause at battery mineral mining areas and for using electricity generated by dirty energy," lamented netizen FreeMalaysian (@FreeMsian) in a tweet. "They don't even pay tax to use our roads unless toll roads."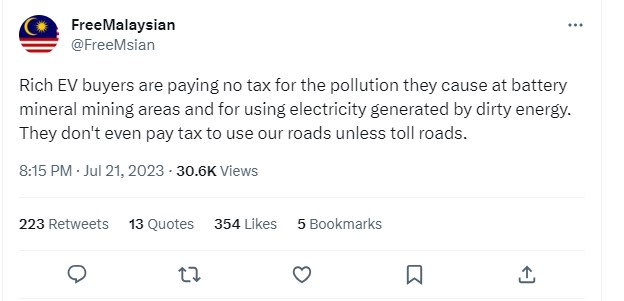 However, those who had their fair share of time in the oil and gas (O&G) industry also have something to voice out about the issue. Needless to say, conventional petrol-run cars are also causing massive environmental problems in the country.
Thus, revealed netizen Alexywlim (@alexywlim): "I worked in O&G industry for 24 years. I am sorry, too, (that) we leak fuels/oil into the sea and river for so many years. And cause so many car explosions and pollute air in the city area. We are not sinless either."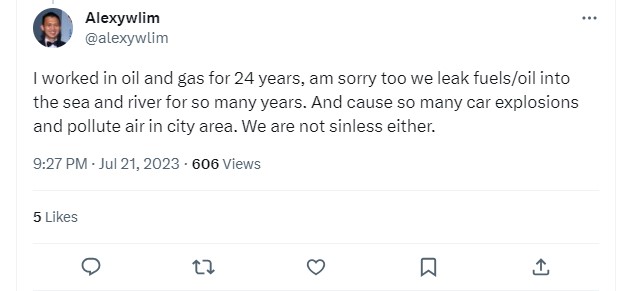 Following this, several complaints surfaced that a RM200,000-priced Tesla is getting tax-free incentive when an RM40,000 Axia isn't.
For the most part, there will definitely be more users for the Axia. Netizens are showing their confusion about the matter as some are seeing this as unfair. Recently, a tweet went viral when a netizen depicts an Axia and Tesla side by side and stated that only one of them is tax-free.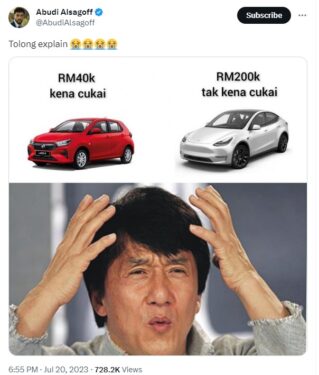 However, there are those who support this initiative. Case in point, netizen Kapten Y Digital Writer (@kapten_y) stated that this boils down "to thee basic which is to future-proof the nation".
"We want to enhance consumption of renewable energy while reducing carbon emission and pollution but EV cars are still expensive," explained the netizen. "Therefore, this is among the ways for the government to encourage change the direction to a greener world."

The view is seconded by netizen schekspeare 🇲🇾🇨🇵 (@soloschek) who shared that even European countries have come out with incentives to promote EV car usage while Dausss (@Feerdausss_) suggested that local car manufacturers "undertake R&D (research and development) to produce our own EVs".
"Impossible that we cannot do so. This is surely better for the long term as we need not rely solely on imports," added the netizen. – July 22, 2023